Sex in the Sticks by Sawyer Bennett: Valentine loves living in New York with the fabulous shopping and seemingly endless numbers of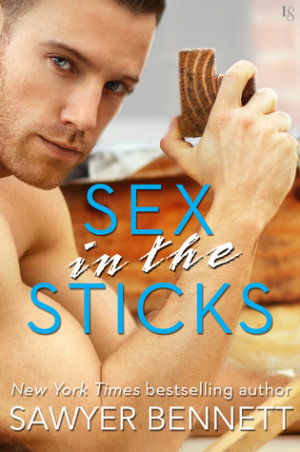 available men. While she comes from a very wealthy family and doesn't need to work, she's found her passion in her dating and relationship blog. She delights her followers (while embarrassing her family) by her frank and sometimes detailed advice.
But after yet another date with a man who seems more concerned with himself and how great he is, she's ready to find the all-elusive man who spends less time and money on his appearance than she does. On a whim and with the advice of her best friend/cousin, she decides to take a trip to Alaska as a little experiment to liven up her dating life.
Val immediately experiences culture shock as the reality of living in a small, Alaskan town doesn't quite match up to her fantasies. But the town certainly does provide many well-built and attractive men for her dating experiment, with Logan as the prime example. Logan loves living and working in a small town in Alaska. He loves the wilderness, nature, and the lower crime rate as the chief of police and mayor. He's sexy, charming, rugged, confident, and generous.
"Well, when in Alaska, you do Alaskan things," she quips.
"Serial dating isn't an Alaskan thing," I say lightly, to which she gives a hearty laugh.
"You know I was talking about fishing, Logan," she teases me. "But honestly…so many men in this town, I'm not quite sure why serial dating isn't an Alaskan thing."
They get off to an interesting start as Logan does come to her rescue more than once as Val adjusts. Both feel the attraction, but Val is determined to carry out her dating experiment as the vivacious and sassy red-head causes quite the stir within the mostly male town. Logan is the type of guy you date and bring home to meet the parents, and Val isn't looking for love or the trappings of marriage. But Logan is like no man she's ever met before.
"You were just shaking your ass for all of East Merritt to see," I tell her sternly. "And I'm pretty sure there's an ordinance against that."
She cocks an eyebrow at me playfully and holds her hands out, wrists touching each other. Her voice a sexy taunt. "I think you should probably arrest me then, Chief."
Sex in the Sticks is entertaining and sexy as a city girl meets her match. Sawyer Bennett provided great chemistry and interactions between the main characters in this opposites attract romance. Ms. Bennett created great secondary characters in friends, family, and the residents of East Merritt. Fans of Marie Force, Elia Winters, and Laura Drewry will enjoy Sex in the Sticks.
Book Info:

Publication: May 2nd 2017 | Loveswept | Love Hurts #1
Wake up and feel the wood! In the first of a series of irresistible standalone romances from New York Times bestselling author Sawyer Bennett, a city girl rediscovers love and lust in the Alaskan wilderness.
Valentine French may be the sassiest dating columnist in New York City, but the abundance of metrosexuals in her adopted metropolis is seriously cramping her style. Where are the beefy all-American boys? Hoping to find some inspiration, Val heads to Alaska, where the men outnumber the women fifteen to one and wrestle grizzly bears for sport. Or so she can only imagine. Suddenly the most eligible bachelorette in a town full of horny lumberjacks, Val is writing her best columns ever. But if she doesn't get her nose out of her laptop, she just might miss out on Mr. Right.
Logan Burke is the sheriff of the little podunk town that Val finds so charmingly backward. He's not that different from the guys she's using for her little experiment; it's just that one date would never be enough for Logan. As he listens to Val complain about love over beers in the local tavern, he realizes that she can't see the forest for the trees. Because if she would ever give up her Prada bags and fourteen-dollar martinis, Logan would give her the only luxury that matters: his heart.