Today, HJ is pleased to share with you

K. Bromberg's

new release: 

Hard to Handle

New York Times bestselling author K. Bromberg is back with an all new second-chance, standalone hockey romance.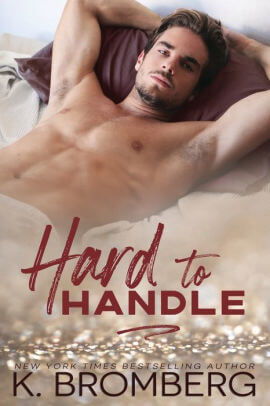 At first, the request seemed simple—sign a new athlete to the agency.
Then I found out the new athlete was none other than the most wanted man in hockey today: Hunter Maddox
Gifted. Sexy. At the top of his game. And the only man who has ever broken my heart.
If signing him will help save our family business, I'll swallow my pride and do what's asked.
But when it becomes clear his uncharacteristic antics off the ice are a hint of something deeper, keeping things strictly professional between us becomes more than complicated.
But I know better than to cross that line.
I'll never date a client. Not even for him.
***
Win the Stanley Cup and do it before time runs out.
Not a small feat, but it's what's motivated me since the start of my career.
And time is running out.
Enter Dekker Kincade.
Feisty. Dogged. Damn gorgeous. The one I let get away.
I have no idea why she's traveling with the team, but hell if resisting her is going to be easy.
But I have a job to do, and I refuse to lose sight of that end game. Even if she confuses me. Even if she sees parts of me I've hidden from the world.
I can't lose focus. Not even for her.
Enjoy an exclusive excerpt from Hard to Handle 
"You're a long way from home it seems," I murmur as her subtle perfume—summer and sunshine—fills my nose.
"Just doing my job." Her voice, Christ, it's soft with a hint of a rasp and feels like fingernails faintly scraping over my skin.
"What? No, go to hell? No, drop dead, Maddox? No, what hotel room can we find so we can use every surface?" I turn to look at her now. Those dark brown eyes a little too big for her face but in all the right ways. Her soft lips and straight nose with a row of freckles dotting across the top of it. But I know better than to be fooled by those freckles. I know Dekker Kincade is a straight-up sex goddess that may have on occasion made me want to beg for more. I'm not ashamed to admit it. "You feeling all right?"
"Funny," she says with a roll of her eyes.
"I try." I hit the side of her knee with mine. "You're here for work and not pleasure, then?"
She lifts a lone eyebrow and a ghost of a smile paints those lips of hers. "It's always about work."
"Not when it came to us, it wasn't."
"There was no us," Dekker asserts, and I snort in response.
My chuckle is low and knowing and the way she adjusts her shoulders tells me she knows what a lie that is. "You're right. There was no incredible sex. No nail marks down my back. No bite marks on my collarbone." I shrug. "I don't know about you, Dekk, but I think we did pretty good in the pleasure department."
"Too bad we couldn't seem to master the playing nice part when it came to everything else."
"Maybe volatility is our thing," I say, the adjective the only way to describe us in the bedroom. Volatile in desire. Volatile in need. Volatile in temper. "Remember that rooftop bar in Los Angeles?" I ask, knowing she does. "It was a hot summer night. You were in that little sundress and we stowed away to the corner of the patio. I had to put my hand over your mouth to muffle your moans so we didn't get caught." I hum in appreciation of the memory. "God, that was hot."
She averts her eyes and shakes her head ever so slightly, but she doesn't refute me. She remembers how incredible that night was—the sex on the rooftop, the thrill of not getting caught, the sex at the hotel that followed. It was the only time we had met someplace other than a hotel room, and it left me wondering why we didn't do it more often.
She ended things the next time we met up.
"You played well tonight."
Her voice draws me back to the present. I smirk at her attempt to change the topic and lean down so my lips are near her ear. "You can sit here looking all prim and proper and professional, but I know your panties are getting wet and the ache is burning a little brighter, because you remember just how damn good it was and how damn good we were."
She clears her throat and shifts in her chair to unsuccessfully gain some distance from me and turns to look at me without an ounce of fluster in her expression.
"You played well tonight," she repeats.
My grin widens. That's how she wants to play this? She wants to act like seeing each other doesn't cause old embers to spark? She wants to act like a tiny part of her doesn't want to revisit that? Then again, she's the one who walked out and ended things, not me. And yet . . . the fact that she's acting like there was nothing between us bugs the shit out of me. I've never forgotten her.
Has she forgotten me?
I lean back and cross my arms over my chest and take my time responding as I struggle with the need for her to remember. "How I played? That's subjective."
"Subjective?" She laughs and the sound slices through the sexual tension that's as automatic now as it used to be when we shared the same space. "Two goals. Three assists, and you had one hell of a block to help Katzen when he was recovering from his first block. But you know, it's subjective." She rolls her eyes and pulls a laugh from me as my eyes roam down the sweater and its V-neck that shows nothing but hints at everything.
Damn.
"But I missed more than I made," I say and realize we're actually being civil to each other when normally we're at odds.
The crowd cheers as a highlight of one of my goals is shown on the closing credits of SportsCenter. I glance around at the crowd, at my teammates who are milling about, and try to figure out why she's here.
Because I know it's not for me.
"So you're here, why?" I ask. "You miss me that much?"
A shadow glances through her eyes and as quickly as it's there, it disappears. "Don't flatter yourself."
"Oh, it's official business then." Our eyes hold for a beat. "I can help you mix pleasure with that business."
She tips her glass toward me. "Thanks for the drink, but—"
"Keep your money." I push the cash she's sliding across the bar top back toward her. "And your attitude."
"That was a new record. Us being civil." Her smile in response is all snark. "It was good seeing you."
I grab her wrist to prevent her from walking away. "Back to that again?"
"Back to what?" She pulls her arm back but remains where she is.
"You walking away without an explanation."
Excerpt. ©K. Bromberg. Posted by arrangement with the publisher. All rights reserved.
Giveaway:

One paperback copy of Hard to Handle, US only.
To enter Giveaway: Please complete the Rafflecopter form and post a comment to this Q:

What did you think of the excerpt spotlighted here? Leave a comment with your thoughts on the book…
Meet the Author:
New York Times Bestselling author K. Bromberg writes contemporary romance novels that contain a mixture of sweet, emotional, a whole lot of sexy, and a little bit of real. She likes to write strong heroines and damaged heroes who we love to hate but can't help to love.
A mom of three, she plots her novels in between school runs and soccer practices, more often than not with her laptop in tow and her mind scattered in too many different directions.
Since publishing her first book on a whim in 2013, Kristy has sold over one and a half million copies of her books across eighteen different countries and has landed on the New York Times, USA Today, and Wall Street Journal Bestsellers lists over thirty times. Her Driven trilogy (Driven, Fueled, and Crashed) is currently being adapted for film by the streaming platform, Passionflix, with the first movie (Driven) out now.
With her imagination always in overdrive, she is currently scheming, plotting, and swooning over her latest hero. You can find out more about him or chat with Kristy on any of her social media accounts.

Buy Links:
Amazon: https://amzn.to/3glG6vM
Amazon Worldwide: http://mybook.to/HardtoHandleKB
Apple Books: https://apple.co/3d3h9TK
Nook: https://bit.ly/2M0Vqjr
Kobo: https://bit.ly/3bZhDZO
Google Play: https://bit.ly/36uLzf8