Rich, Rugged Rancher by Joss Wood is a sexy and exciting ranch set romance and part of the multi-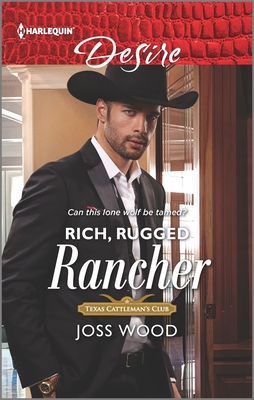 authored Texas Cattleman's Club: Inheritance series.
Reality TV star Fee Martinez is used the to the bright lights and big city but a lot of things about small town Royal, Texas, appeal to her – including oil tycoon and rancher Clint Rockwell. She's on site for filming with one of her best friends Miranda who has inherited a local property, Blackwood Hollow, after her older husband passed away (to the dismay of her friend's step-children who feel like their inheritance has been stolen) and the drama is non-stop. So taking some time for herself is paramount and an affair with Clint is the perfect solution.
Clint doesn't think much of the reality show being filmed in his neighbourhood, and being in the spotlight is definitely not his thing. He can't deny being attracted to Fee's big bold personality and inner and outer beauty despite their initial clash. But he's very aware of how his prosthetic leg, a consequence of a military injury, has scared off women before, his ex-girlfriend and his mother included. He's learned to keep his feelings closely held and he's not a one-night stand kind of guy so the last two years have been somewhat lonely. But Fee isn't like other women, seeing all of him, scars included and liking what she sees. Their affair is a steamy one that brings Clint out of his shell but when Fee's time in Royal is up, is that the end of their time together?
I loved this story! Clint is an emotionally complex man who has been hurt in relationships before so it's perfectly understandable that he's kept his distance from women since returning from active duty. Plus the time he spent recovering from his injury taught him that he could only rely on himself. Spending time with his horses is his favorite pastime as they don't question him or offer him any pity.
Fee is different from the other women he's known, treating him the same before and after she finds out about his injury. She speaks her mind and doesn't back down when she believes she's in the right. Their attraction is sizzling and there are plenty of sexy scenes to prove it. The development of their feelings for each other is believable and they both have to make some changes to consider a future together. Because of the other drama going on, it's not surprising that there is some fallout that affects Clint and Fee's relationship and getting to their happy ending is a bit of a wild ride but thoroughly satisfying.
There are some other plot points brought up in the story relating to the other ex-wives and secondary characters on the reality show that Fee is involved with, and clearly more stories to be told in this spinoff series from the Texas Cattleman's Club. Looking forward to more exciting romances but for now Clint and Fee are my new favorite couple!
Book Info:

Publication: Jan 01, 2020 | Harlequin Desire | Texas Cattleman's Club: Inheritance #2
"Why aren't you pushing me away?"
"Because you kiss like a dream."
Ever since the accident that took his leg, oil tycoon Clint Rockwell doesn't do relationships—he likes being alone. And he doesn't need anyone's pity. Then fast-talking reality star Fee Martinez sweeps into Royal, Texas, on to his ranch…and into his bed. It's only for a night, and then two. Wanting more is impossible, but this goodbye might be the hardest thing he's ever done…