In You Were There Too by Colleen Oakley, Artist Mia Graydon has been having recurring dreams for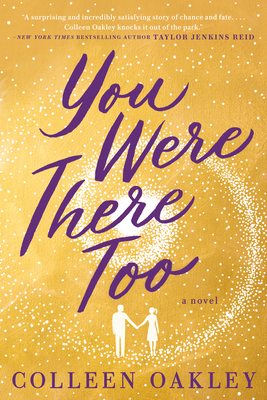 years. Which is really not all that uncommon. The weird part? The same man, someone she's never met before that she can recall, is always in them. So imagine her surprise when Mia, happily married and a new resident of small town Hope Springs, meets her "dream" man. That in itself is shocking enough. But the even more unreal part is that Mia finds out Oliver has been dreaming of her as well.
"You've dreamt about me?… He tilts his head, his expression serious. "Was it before we met?"
"How did you…why would you…"
"Because," he says, his black marble eyes penetrating mine, "I dream about you, too."
Not sure what it all means, Mia is torn between getting to know Oliver better to figure out if their lives have crossed over anywhere in the past, and with concentrating on her painting career and hopes for a family with her husband Harrison. As a surgeon at the nearby hospital, Harrison comes into contact with many local residents, including Oliver's sister. And with each new patient he helps, he tries to put behind him a horrible tragedy that he can't seem to forget. While Mia, Harrison, and Oliver all sort through their own personal issues as well as the odd dreams two of them are having, their lives continue to twist and turn in unforgettable ways.
"I'm just saying," he continues, "the only thing connecting you to this guy is these supposed dreams. He isn't really part of your life–or doesn't have to be."
"But maybe he's supposed to be."
You can always count on Colleen Oakley for an emotionally-charged, complicated story filled with real life issues–but with the volume turned up. You Were There Too was fascinating, will rip your heart out at times, and had a series of events that will stick with you long after you've read the final page.
'I don't have to say how strange it is, the way the paths of our lives intersected. How neither of us could have ever guessed how it would have all turned out. How no one would ever believe us if we told them.'
Trigger Warning: View Spoiler »Loss of a child, domestic abuse, cheating, homicide. « Hide Spoiler
I'm going to do my best to make sense of my (waffling) thoughts and opinions without giving too much of the plot away. I will start off by saying that readers will likely have vastly different opinions of this story, a lot of it coming down to personal beliefs and life experience. That being said, Colleen Oakley definitely had an interesting premise for this novel. Dreams, shared dreams actually, the idea of soul mates vs the randomness of our personal connections with others–it made for some thought-provoking moments and choices made by our characters that would prove to have lasting consequences.
The writing itself was wonderful. Just what I would expect from Oakley: well-thought-out characters, complex plot, and the pacing was perfect. It was our heroine Mia's choices, along with some of her actions, that had me alternating between wanting to throw my kindle and also hating to stop reading for a second. (lol) Mia was portrayed as the quintessential artist: kind of flighty, but brilliant at her craft (painting); she was forgetful, passionate, domestically challenged. I truly did like Mia overall. It was just frustrating to see her basically torn between two men–her husband Harrison and the man she dreamed about, Oliver–but not torn between them in the way you would think. Not really. Instead, it was more like she was torn between "what is" and "what if".
It was so complex, what happened between Mia, Harrison, Oliver and a few others, that there was no way they could each find complete happiness given their situation. And the culmination of it all at the end will be tough for some readers. Because this was *not* a HEA, although I suppose it could be considered a HFN in a bittersweet way. There *was* a teensy bit of hope that might possibly soothe reader's hearts after the shocking events that took place.
A work of fiction that will have readers pondering the serendipity of their daily lives, You Were There Too was a reading experience like no other.

Book Info:

Publication: January 7th 2020 | Berkley |
Acclaimed author Colleen Oakley delivers a heart-wrenching and unforgettable love story about a woman who must choose between the man she loves and the man fate has chosen for her in a novel that reminds us that the best life is one led by the heart.
Mia Graydon's life looks picket-fence perfect; she has the house, her loving husband, and dreams of starting a family. But she has other dreams too — unexplained, recurring ones starring the same man. Still, she doesn't think much of them, until a relocation to small-town Pennsylvania brings her face to face with the stranger she has been dreaming about for years. And this man harbors a jaw-dropping secret of his own—he's been dreaming of her too.
Determined to understand, Mia and this not-so-stranger search for answers. But when diving into their pasts begins to unravel her life in the present, Mia emerges with a single question—what if?