In Right from the Start by Jeanie London Kenzie is a divorce mediator, teaches a divorcing parenting class, and owns her business Positive Partings. Will wears a lot of hats…he is a politician involved in local politics, a contractor, is raising his autistic son, and is heavily involved in Angel House. Everything Will does in his life is for the benefit of his son and Angel House.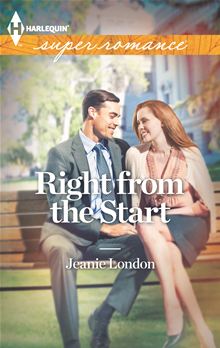 Angel house is "A Sanctuary for family's facing autism". To run, it relies on grants, donations, and fundraising. The money is running out and so is the space! Will is committed and determined to help Angel House which is the real reason he is also in politics. He has found the perfect solution for space, and if they can get everything done, grant money that will ease the pressure. To make it work in the building he's found to renovate, they need another business that also serves a need in the community and is dedicated to helping families. Positive Partings is the perfect tenant for this and Will is sure it is a win win situation for both Postivie Partings and Angel House.
Will meets with Kenzie to share his idea and Kenzie is immediately drawn to him, but at the same time decides she doesn't like him, and that he must have a secret agenda. She's sure she's met him before, and remembers meeting his ex-wife in her office. Kenzie only knows the outcome of their divorce, not the details, but she prejudges him on her assumptions and the ex-wife's stories. Because in Kenzie's world, everything is black and white, and she feels the need to have complete control. There is also her 'inner child' as she calls it that she keeps in check. But that inner child is desperate to break free! As Kenzie and Will work together to renovate the old building, she learns more about him and starts to see him in a different light. Will feels things he didn't expect to feel for Kenzie, and he knows there are different colors and shades in life that you have to work with. He has his stuggles too though, between dealing with his ex-wife and his son, his business, and the politics.
Will rocks Kenzie's steady world, and she's not quite sure how to handle it! He makes her feel things she's never felt before, and she finds it unsettling. They both have very busy lives, is there room for anything else? Can Kenzie risk letting her inner child out?
As I read Right from the Start I was really, really hoping Kenzie would open her eyes and see the man Will really is (not to mention how sexy he is in a tool belt!). Will really pulled at my heartstrings…he is doing so much and never complaining, but can he keep that pace up? I think Will is a great man! I have to admit that Kenzie annoyed me at first with her preconceived notions…as a divorce mediator she should have known better than to make a snap judgement! Kenzie did grow on me as Right from the Start progressed. We also learned a lot about the secondary characters in the book, mainly Will's ex-wife and his son, and Kenie's 'friend' Nathanial. I liked how they were brought in and enhanced the story.
I found the beginning of Right from the Start dragged on for too long and was a bit unclear at times, but overall is was a really good romance with some heat! When Jeanie wrote about autism, it was very realistic and believable, staying true to fact. Jeanie wove it in really nicely with the romance of Right from the Start.
Book Info
Publication Date: April 2, 2013 | Series: Harlequin Superromance (Book 1843)
He put her theories to the test!
Emotional Control. That's divorce counselor Kenzie James's motto and one of the rules she's built her professional reputation on. But her own control is challenged when the gorgeous Will Russell offers her a business deal too good to be true.
From the moment they shake hands, Kenzie's ordered world is thrown into chaos with the wild feelings he creates in her. And the attraction only intensifies when she witnesses Will's fierce love for his autistic son. How can Kenzie not admire that quality in Will? And how can she resist him? One thing is for sure, he's definitely showing her that nothing is black-and-white when it comes to love.