Right Where You Are by L.E. Bross: After destroying her now ex-boyfriend's car for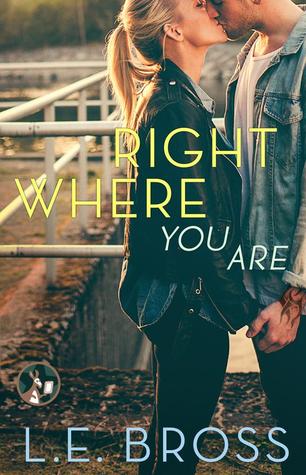 cheating on her, pampered rich girl Avery finds herself doing 300 hours of community service picking up trash on the highway alongside Seth, the man just out of prison for beating up his abusive step-father.
With her and her parent's expectations, Seth is the last boy Avery could ever be with, and Seth wants nothing to do with Avery with his focus needed to save his sister from their step-father. But the attraction only rises as they resist one another and just maybe the girl who wants a prince charming is perfect for the boy who lives the rough and tumble.
As they fall into their attraction, it's up to them and their insecurities if they can make it work, because sometimes life can tear what you want most away from you.
I needed to focus…Needed to save my sister. Needed a million other things that weren't Avery.
But I've never really been good at staying away from what I want. And fuck me if I didn't want her more than almost anything I ever had.
No matter that Seth's crime is one I'm not mad about, he was still in prison so that definitely worries my happily ever after, but otherwise I so enjoyed Right Where You Are. I love Seth, his passion, his fight, his whole personality. And he and Avery are perfect together.
They truly help one another grow, and although I wish for deeper development in the relationship, they are just too cute and funny together. The sexual tension is palpable and hot!
Although, aside from their wonderful friends, the world feels against them, together they refuse to back down without a fight as they teach and learn from one another. Overall, they just felt like a real couple that I rooted for, even if there were some dumb decisions along the way. I highly recommend Right Where You Are if you're still loving those New Adult's with a passionate couple.
Book Info:

Publication: November 16, 2015 | Pocket Star | Second Chances #1
Avery Melrose is used to having it all. So when her boyfriend cheats on her, she reacts like any spoiled rich girl-she freaks out and vandalizes his new truck, Carrie Underwood style. Now she's stuck with 300 hours of community service doing road-side garbage duty.
Seth Hunter just got out of prison, and after a few hundred hours picking up litter on the side of the highway, he can finally put his mistakes behind him. If he can string together some kind of existence, maybe it'll be enough to get his sister away from their stepfather, the man who sent Seth to prison in the first place.
A romance between these two is doomed from the start. Girls like Avery want castles and white horses, and Seth is no prince charming.
But sometimes, being around Avery makes Seth think he could make something of himself. Maybe even be worthy of a girl like her. It's just too bad real life gets in the way first, tearing these two apart before they have any chance of getting to Happily Ever After.