Rising Star by Terri Osburn: Charley has her dream job as a radio show host in Nashville. She's bright, independent, sassy, and is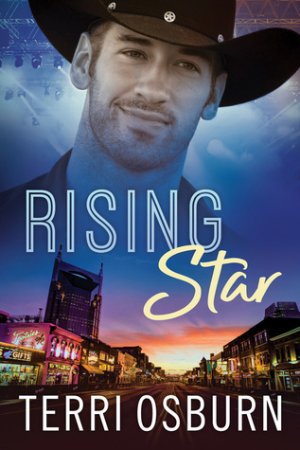 terrified of being the center of attention. Being a voice on the radio is perfect as she feels less in the spotlight.
Dylan is determined to make this record deal work. He is a (hopefully) rising star in the country scene, even if it means he has to sing someone else's songs. Dylan is a true gentleman and all-around good guy.
Charley is determined to make her dreams come true and not to repeat the mistakes of other women in her family. She won't be giving up her career for any man and a relationship is a distraction she doesn't need, until Dylan delights in her sass and charms her.
Charley exhaled. "Much. You must think I'm crazy."
He shook his head. "No, ma'am. I think you're interesting."
And a sexy distraction from the pressure of his new endeavor.
She laughed. "That sounds like a nice way to say I'm crazy."
"How about crazy in a good way?" he offered.
Dylan has "relationship" written all over him, which has Charley running after an amazing night. She's certainly surprised to then have him as a guest on her radio show. Dylan has to use all of his charm to persuade Charley to date him. Charley pushes him and he fully supports her dreams. They get closer than she expected pretty quickly.
"Are you freaking kidding me? I'm here now. You can't leave me hanging."
He stood his ground. "Are you going to behave?"
Brown eyes narrowed, and he could almost see the steam exiting her ears. "Yes, Mr. Monroe. I'll be a good little girl and play nice with your friends."
Rising Star is a sexy contemporary romance with plenty of push and pull. Terri Osburn wrote great banter and entertaining interactions amongst the characters. Ms. Osburn developed an engaging cast of characters and storyline with potential for more books in this world. Fans of Kris Fletcher and Jessica Peterson will enjoy Rising Star.
Book Info:

Publication: September 12th 2017 | Montlake Romance | Shooting Stars #1
Can love survive the bright lights of fame?
A popular DJ at the hottest station in Nashville, Charley Layton is doing what she's always wanted to do: living in the heart of country music. Charley puts her career first and relationships second, but when a charismatic stranger in a black cowboy hat invites her back to his place, she decides to give herself one night of no-strings fun.
But Dylan Monroe isn't a no-strings kind of guy. Charley is beautiful, brainy, and brassy as hell—the kind of girl he's always wanted. When his record label books him an interview on Charley's show, he's determined to find out why he woke up alone, and when he can see her again.
With Dylan now the most eligible bachelor in country music, Charley doubts their fling stands a chance, but she's willing to try. Dylan dreams of fame, but he also craves a life offstage with Charley. Can he convince her that both of their dreams are worth chasing, and that love is still possible, even in the spotlight?