The Italian's Pregnant Prisoner by Maisey Yates  is the third story in her modern fairytale series, this one based on Rapunzel. Like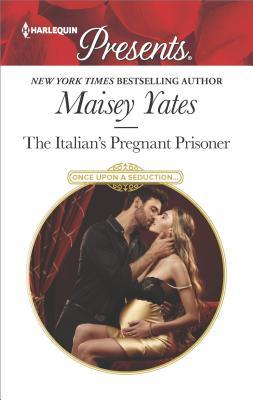 the heroine in that story, Charlotte was kept isolated by her royal family, but she escapes, only to find the man she once thought she loved has irrevocably changed.
When Rafe was a business associate of her father's in Italy, he had come to her in secret, a love story in the making cruelly shattered when he disappeared one night and never returned. Told she must marry a stranger, Charlotte had managed to escape and become a free woman with a new identity. Seeing Rafe's picture in the newspaper, she'd found out that he'd been blinded in an accident, the details remaining a secret. Finding out he'd be at a ball nearby, she knew she could sneak in under the guise of her now deceased father's invitation and get a look at Rafe after all these years, without worrying that he could see her in return. Yet somehow, he'd caught her unique fragrance and unerringly found her in that crowded room.
Rafe seduces Charlotte, telling her that his desire for her is only for the night and that there will be no future for them. Charlotte agrees and succumbs to their night of passion. But there are consequences, when Charlotte ends up pregnant with twins. Kidnapped by Rafe, is she trading one life of being a prisoner for another one? Or will the revelation of what really happened to part them and ruin their fledgling love give them a second chance to make things right?
I can always count on this author to provide a passionate and exciting romance! Rafe's challenges with his blindness make him a frustrated and angry man. He'd pulled himself out of poverty to become a very wealthy man but money can't make up for his loss of sight. But Charlotte will not put up with being treated poorly by him, even if he has kidnapped her against her will.
Charlotte is a strong woman who has learned to fend for herself, and she has the patience to deal with Rafe's insecurities and faults. Still she wants something more than to just be a commodity to him because she's having his children. The attraction between them is never far from the surface and they share some steamy love scenes even as they try to deny their feelings for each other. There are some scenes with Rafe's friends, heroes of the first two books in the series, that show the tight bond between the men and how they've stood by each other in all circumstances. The conflict in the story comes mostly from Rafe and Charlotte dealing with their pasts and what's brought them to this place. Charlotte is not willing to live a life without love, and Rafe must prove to her that he will be a worthy partner. This is an entertaining and sexy romance with a sweet happy ever after ending.

Book Info:

Publication: Sep 19, 2017 | Harlequin Presents | Once Upon a Seduction #3
Pregnant…and at his mercy!
Charlotte Adair spent her life locked away in a tower. Her father's death frees her to find the one man she's ever loved…only to discover billionaire Rafe Costa is now blind, believes she betrayed him and is bent on a vengeful seduction!
Rafe is shocked to realize that Charlotte is a virgin, but weeks after their scorching encounter, he learns she's pregnant–with twins! To claim his heirs, Rafe steals Charlotte away to his castle, but she is far from a biddable prisoner. She is irresistible, defiant, and Rafe must seduce her into compliance!