Risky Surrender by Robin Bielman: Every person archeologist Lucy Davenport has ever loved has died. She lost her mother when she was five and her grandmother when she was twenty. Two years ago she lost her father and husband Matt in a freak accident while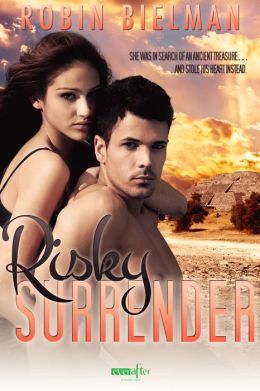 they were seeking a Mayan crystalline artifact in a Guatemalan cave. Now she has a second chance at love and happiness with Keats McCall, a good-looking environmental preservationist.
When Lucy and Keats meet for the first time, there is an instant chemistry, even though they come from two different walks of life. She bumps into him a couple of times before and after she steals an ancient emerald from inside the walls of a seaworthy museum ship, during a fundraiser that Keats is attending. Thus far, you could say that Lucy's archeological discoveries border on the line of thievery.
A few weeks later they meet again when Lucy shows up on Keats' preservation project site in Arizona. Lucy has done her research and now knows that the Tlaloc sculpture that she, Matt and her father had been searching for over the years is located in the Aztec village Keats' company is preserving. At the time of their deaths, Lucy promised she would do everything possible to find the sculpture and she has made it her life's work to do so.
Keats knows that Lucy is up to something and is determined to find out what it is. In his perseverance to find out the truth, they get to know each other, spend time together and fall madly in love. Their sexual encounters are hot, steamy and passionate. True love is a new sensation for Keats and it is causing him to rethink about his future. Overtime, Lucy learns to trust Keats with her heart and her secrets so that once the sculpture is discovered, she will be free from her prior demons and obligations.
This is a very gripping novella. It is well written and nicely paced. If you are looking for an interesting, contemporary romance with some angst, try this short story.
Book Info

Publisher: Entangled: Ever After (August 26, 2013)
Archeologist Lucy Davenport made a promise to retrieve an elusive piece of history buried in the walls of an iconic Indian village. But when she draws unwanted attention that interferes with her secret plans, she's forced to risk it all with a man who threatens not only her goal, but the walls she's carefully constructed around her heart.
Keats McCall is an environmental preservationist navigating the globe on behalf of heritage protection. When he catches Lucy at his latest project, he suspects she's up to something. She secretive, sexy as hell—and has trouble written all over her. He devises a plan to keep her close so he can keep an eye on her. But what he isn't prepared for is just how close he wants to get.