Rival Radio by Kathryn Nolan:Theo and Daria are polar opposites when it comes to their radio shows. Theo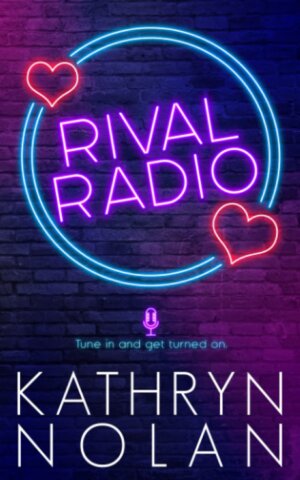 believes in true love, while Daria believes in being single forever. When they end up in the same room together, it normally ends in an argument. So why on Earth would the station manager decide to have them do a radio show together now as well as pair it with activities around the community? Both Theo and Daria immediately push back on the thought, but when it turns out that the station is in financial trouble, they try to make it work.
Their first show is a catastrophe to say the least. Since their first activity is paintball, Theo and Daria look forward to getting some aggression out on each other. When their plans are thwarted, they must team up for victory. When they are accidentally forced into close quarters, sparks fly and not ones of anger. Can they find a way to understand their feelings while still maintaining their core beliefs?
Daria was left at the altar and realized afterwards that she had become a different person because of her ex-fiancé. She chooses to focuses on finding herself and in the process starts a radio show and writes a memoir focused on helping others do the same. When she feels a spark between her and Theo, she wants to run from it. She doesn't have any trust left for men to show her love. As she builds on her relationship with Theo, she learns what love truly is and how love can accept her for who she truly is.
Theo was not loved growing up. When his parents divorced, he was thrown to the wayside in their eyes. Because of this, he chose to focus on love and soulmates trying to find out what went wrong. When he decided to start his show, he wanted to help others with the information that he had learned. When he accepts his feelings for Daria, he doesn't know how to approach it because she's the polar opposite in viewpoints to him. He has to learn how to be loved, understand how to be loved, and decide how he wants to be loved.
Overall, the book is so steamy! It was also poetic at times. The recurring characters really help Theo and Daria on their journey and make the experience that much more enjoyable. I found myself literally smiling and giggling at times while reading. I felt so connected to the characters and their journey, which makes it that much more special to me. I feel that it was a very well-rounded story that didn't leave any question unanswered.
Book Info:

Publication: May 20, 2022 | That's What She Said Publishing |
These two on-air enemies can't stop rubbing each other the wrong way in the booth…and the right way in bed.
Theo
Whoever said "keep your enemies close" never had to share a small, dark sound booth with her. Daria Stone is the infuriating host of "Choosing Yourself." The name is almost as ridiculous as the concept. Permanently single? Please. The woman's made a career out of rejecting everything I stand for.
I'm looking for the one. The right woman who's ready for marriage and a lifetime together. Not some sultry, stubborn vixen who makes my life a living hell and insists a husband can be replaced by a curated collection of bedroom toys. And I know she's wearing those skin-tight leather pants just to annoy me.
Daria
Dr. Theo Chadwick is a professional pain in my…workplace. Sure—on the outside, the man is gorgeous. But he's also obsessed with finding his better half and getting his radio show, "True Romance," syndicated so he can give false hope to lovelorn listeners everywhere.
He keeps pushing my buttons with his arrogant "expertise" about how wrong I am. I just want to see him snap. Maybe that's how I ended up here, pinned against a wall with my legs wrapped around his waist…whoops…
Can these enemies put their feud on hold and play nice in a shared timeslot to save their popular beach town radio station? Or will their sparks burn everything to the ground?
Author's Note: One-click if you love forced proximity, breakroom bickering, "we're just getting it out of our system" one-night stands, a rag-tag crew of DJs, and beachy, retro boardwalk magic.