In Rock Hard (Rock Kiss #2) by Nalini Singh, Charlotte "Charlie" Baird was intimidated by her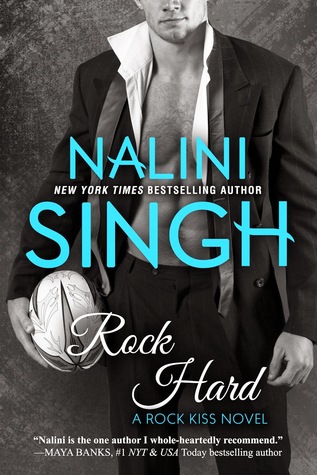 new boss Gabriel Bishop from the first moment they met. When she threw a stapler at his head, mistaking him for someone potentially breaking into their office building. Talk about an awkward start. But Charlie is used to such situations given her shyness and her anxiety thanks to trauma in her past. Soon, though, Charlie starts working in close quarters with her ginormous boss, whom she calls T-Rex to her best friend Molly. She's reluctant to believe it when sparks begin to fly between them, until she has to admit Gabriel wants her. After seeing his previous model-perfect dates, how can he want anything to do with Charlie, in all of her mousy, blandly-clothed splendor?
'She might be shy and tongue-tied when it came to any kind of flirtation, but this wasn't flirtation on Gabriel's part. It was a moment's amusement. Because T-Rexes didn't date mice. They stomped on them on their way to other, sexier pastures.'
Ex-rugby pro star Gabriel is putting his MBA to good use as the new CEO of faltering Saxon & Archer. His first order of business is to clean out the dead weight in management and with the rest of the staff. One of his lucky finds is Charlotte Baird, who quivers in his presence but knows everything about the business. Gabriel begins to question his move to promote her when it means having her outside his door everyday, torturing him with her body and her sweet personality. As he begins to make his feelings clear, he realizes he'll have to handle Charlie just so or he'll risk the possibility of scaring her away for good.
'Petite, intelligent, with a hidden fire in her eyes when he pushed too hard, and a smart mouth he wanted to taste, Charlotte Baird was Gabriel's version of perfect.'
I have to give this novel 5 big 'T-Rex vs Charlie-Mouse' stars for how entertaining and heartfelt the story was! There was just as much emotional depth as there were lighthearted moments, blending this into a stellar romance.
I really enjoyed book one, Rock Kiss, which follows Charlie's BFF Molly and her love interest Fox. I thought it was a great start to the series. But book two has bumped up the emotional turmoil and the passion with Gabriel and Charlie's romance. I am so happy that author Nalini Singh continues to write such intelligent, elegant prose which makes her stories a joy to read. The thread of humor never stopped here, but it wasn't over-the-top funny. It was intricately woven into each scene and added a punch to the dialogue as well. I thought it nicely offset the darker portions of both Charlie and Gabriel's pasts that they were dealing with throughout their relationship.
Where to start with these two charismatic characters? I guess I'll start off admitting that I initially related to Charlie because she deemed herself 'mousy'. As funny as it was to think about shy and awkward Charlie paired up with her hulking (gorgeous) ex-rugby star boss Gabriel, whom she dubbed T-Rex, there was a reason they both acted the way they did. And as the story progressed, the trauma from Charlie's past proved to be both a strain on her relationship with Gabriel, and a way for them to take things slowly and really connect. I was pretty awed by how patient and protective he was in regards to both her and his family as his own drama unfolded. Although I also loved the scenes where Gabriel got Charlie kinda riled up just to see her temper flare a bit. He loved that fire in her personality, and so did I!
If you are looking for a well written romance that isn't afraid to deal with some darker issues but still have some incredibly fun moments, I highly recommend Rock Hard. Plus, if you read this one, pay attention to the chapter titles. Absolutely hysterical!
Book Info:

Published March 10th 2015 by TKA Distribution | (Rock Kiss #2)
In New York Times Bestselling author Nalini Singh's newest contemporary romance, passion ignites between a gorgeous, sinfully sexy man who built himself up from nothing and a shy woman who has a terrible secret in her past…
Wealthy businessman Gabriel Bishop rules the boardroom with the same determination and ruthlessness that made him a rock star on the rugby field. He knows what he wants, and he'll go after it no-holds-barred.
And what he wants is Charlotte Baird.
Charlotte knows she's a mouse. Emotionally scarred and painfully shy, she just wants to do her job and remain as invisible as possible. But the new CEO—a brilliant, broad-shouldered T-Rex of a man who growls and storms through the office, leaving carnage in his wake—clearly has other plans. Plans that may be equal parts business and bedroom.
If Charlotte intends to survive this battle of wits and hearts, the mouse will have to learn to wrangle the T-Rex. Game on.