Rocky Mountain Cowboy Christmas (Rocky Mountain Cowboys #1) by Katie Ruggle: Steve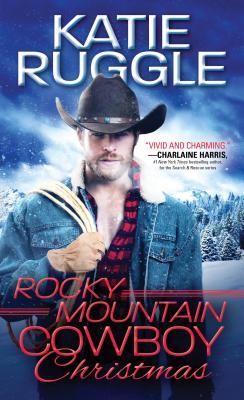 Springfield has moved back to his hometown of Borne, Colorado with his four children. They are now living on the family Christmas tree farm. Steve's wife and the children's mother died eight years ago. Moving back to his hometown means having family close by to help with the kids.
In addition to working on the Christmas tree farm Steve is a volunteer firefighter in Borne. He has lots of experience since this was his full-time career. The volunteer fire and rescue squad gets called out to find a missing person, Camille Brandt, folk artist and the town's resident eccentric. Her nosy neighbor, Mrs. Lin has reported her missing. Steve finds Camille in an old junkyard. She is not really missing or in trouble. She is there scavenging items to use in her art sculptures. Steve remembers Camille from high school. Back then she was a sweet, shy girl who kept mostly to herself and didn't talk much. Now he finds her to be a beautiful woman and he is attracted to her in spite of her shyness. Camille most definitely remembers Steve. She had a crush on Steve-freaking-Springfield back then and her attraction to him comes rushing back. Steve and Camille dance around their attraction to each other at first. The story of their Happily Ever After is heartwarming and entertaining.
Rocky Mountain Cowboy Christmas is the first book in author Katie Ruggle's new series, Rocky Mountain Cowboys. In this book she paints the picture of life in Borne, CO and the interesting cast of characters who live there. We meet Steve Springfield who loves his children very much but has doubts about his parenting abilities as his kids grow older. We see this over and over again throughout the story. We meet Camille who is very shy around people but who finds she can talk to Steve's kids and be comfortable with them. And she becomes very comfortable around Steve too! We meet Steve's kids who are truly remarkable and quite interesting to read about. Their antics and conversation contribute greatly to the story. They also contribute some "booms" from some amazing experiments done by one of the kids with her siblings' assistance. We also get to see the fun Christmas spirit of the area especially from the point of view of the Springfield family who run the Christmas tree farm.
Katie Ruggle has them using their horses like Buttercup to drag the tree selected by the customers to their car while their kids get to ride the horse back from the forest. This bring families from all over the area there. I love reading about these types of Christmas traditions. This author does a good job of bringing the Christmas spirit to light in this book.

Book Info:

Publication: September 25th 2018 | Sourcebooks Casablanca | Rocky Mountain Cowboys #1
In the heart of the Rockies
In the arms of a cowboy
One white Christmas can change everything.
When firefighter and single dad Steve Springfield moved his four kids to a Colorado Christmas tree ranch, he intended for it to be a safe haven. But he never expected danger to follow them to his childhood home…
Or that he would come face-to-face with the one girl he could never forget.
Folk artist Camille Brandt lives a quiet life. As the town's resident eccentric, she's used to being lonely–until Steve freaking Springfield changes everything. Brave and kind, he's always had a piece of her heart, and it doesn't take long before she's in danger of falling for him and his rambunctious kids. But as mysterious fires break out across the sleepy Colorado town, Steve and Camille will have to fight if they want their happy family to survive until Christmas…