Rodeo Christmas at Evergreen Ranch by Maisey Yates: From the beginning, Jake didn't want to get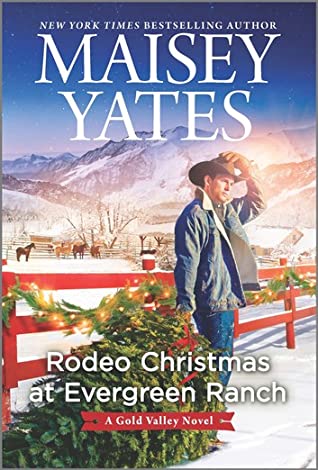 involved with anyone, but Callie was his weakness. After fleeing the rodeo scene, he migrates back to his hometown to take a break from his feelings. Fortunately for him, Callie shows up on his doorstep with a proposal: get married so she can access her trust fund.
Callie expects him to put up a fight with her about the marriage, but he agrees almost immediately. Between the two of them, the tension is high in every way possible. They are both walking on eggshells after Callie's accident and Jake's consequent departure, but they have to learn how to come across married to her family.
Thankfully, it doesn't take much to let the sparks fly for them, and soon they are steaming up more than just the pages. Both of them have unresolved issues though, and they won't be able to give their all until they deal with them.
First off, Jake is pretty much the definition of sulk in the corner bad boy. The way that he opens to Callie is the first steppingstone to him moving on, and it is so cute. He finds that she is his weakness, but he doesn't want to admit it to himself. Jake's character development is heavily internal, but it is also relatable. Even if you don't relate to his exact situation, you can relate to him, especially with the advice he is given.
For Callie, she has unresolved issues with her family which led to an internal struggle. Growing up, she always thought that she was the runner up for a child lost too soon and that she will never live up to those expectations. The conversations and interactions with her family are some of the most important moments of the book. They made me weepy cry at some points.
Overall, the book had the steaminess needed, but also focused on more important things than that. As someone who hasn't read any of the other series books, I didn't feel like I was missing anything, but I definitely want to understand the other couples (which were probably the previous books). Thankfully it didn't dwell on them like others sometimes do. It made the book very enjoyable and I would definitely read others in the series.
Book Info:

Publication: October 26, 2021 | HQN Books | Gold Valley #13
"Yates brings her signature heat and vivid western details to another appealing story in the excellent Gold Valley series. Family holiday pressure is well portrayed with realistic, satisfying solutions. Fans of Kate Pearce should enjoy this."—Booklist on Rodeo Christmas at Evergreen Ranch
Gold Valley's rodeo champion is facing the toughest challenge of his life—a Christmas wedding!
Legendary bull rider Jake Daniels has only one plan this Christmas—to ignore the pain the season always brings. Until his best friend, Callie Carson, shows up on his ranch with a marriage proposal. Jake has lived so close to the edge it's a miracle he's still alive—he knows all about risk. But marrying the woman he craves more than anything feels like the biggest risk of all.
Callie Carson may be rodeo royalty, but to fulfill her dreams of riding saddle bronc, she needs her inheritance. And to access that, she needs a husband. But Jake the husband is deliciously different from Jake the friend, especially after the wild heat of their wedding night. He was only supposed to be her cowboy for Christmas, but Jake's every heart-stopping touch has Callie questioning how she'll ever be able to walk away.
In bonus novella Her First Christmas Cowboy, Tala gets a surprise Christmas delivery—a cowboy on her doorstep!