Roommaid by Sariah Wilson: Wow! This was the first book I've read by this author and I'm so glad I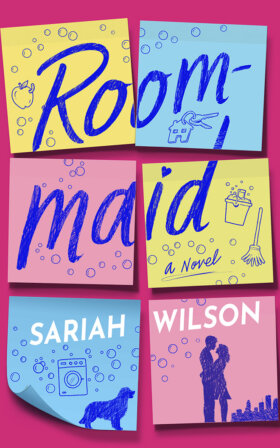 had the chance. It was beautifully written, had a great storyline, and charming characters. It was easy to read and kept my attention from the beginning.
Madison Huntington had been disowned by her wealthy, influential family when she decided to become a teacher. She had to learn how to survive in the real world without money. She was slowly building up her self-confidence and was looking for her own apartment, which on a teacher's salary wasn't easy to find. When her aunt Frederica told her about Tyler's position and free boarding, Madison couldn't turn down the opportunity. Even though she's never cleaned or taken care of a dog, she figures she can handle it. Officially she hadn't broken up with Brad, so she meets Tyler's criteria. Madison tried to stay within the friendship boundaries that Tyler set but they became hard as her feelings grew.
Wealthy Tyler Roth travels a lot with his job and wants to hire someone to clean his apartment and take care of his dog when he is out of town. He's had problems in the past with roommates stalking him and is happy to know Madison is in a relationship with someone. He wants to keep their relationship strictly as friends, but will he change his mind as he gets to know Madison?
I really enjoyed reading this book. The characters were easy to connect with and I loved seeing Tyler and Madison's relationship grow from friendship to love. It was wonderful seeing Madison grow self-confident and independent. Her cleaning casualties were entertaining, but she managed to conquer all she applied herself to. I look forward to reading future books by this author and hope to see Madison's friends again.
Book Info:

Publication: October 1st 2020 | Montlake |
Madison Huntington is determined to live her dreams. That means getting out from under her family's wealth and influence by saying no to the family business, her allowance, and her home. But on a teacher's salary, the real world comes as a rude awakening—especially when she wakes up every morning on a colleague's couch. To get a place of her own (without cockroaches, mold, or crime scene tape), Madison accepts a position as a roommaid. In exchange for free room and board, all she needs to do is keep her busy roommate's penthouse clean and his dog company. So what if she's never washed a dish in her life. She can figure this out, right?
Madison is pretty confident she can fake it well enough that Tyler Roth will never know the difference. The finance whiz is rich and privileged and navigates the same social circles as her parents—but to him she's just a teacher in need of an apartment. He's everything Madison has run from, but his kindhearted nature, stomach-fluttering smile, and unexpected insecurities only make her want to get closer. And Tyler is warming to the move.
Rewarding job. Perfect guy. Great future. With everything so right, what could go wrong? Madison is about to find out.