Harden My Hart by Clare Connelly is the third story in her steamy contemporary romance series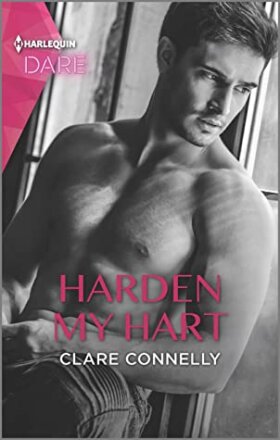 about the Hart family siblings, The Notorious Harts. This one features a one night stand that becomes something more.
Flight attendant Cora is ready to turn in her wings and deal with some family affairs when she takes on one more assignment for an ill friend – a trip on billionaire Holden Hart's personal plane. With a quick rundown from the head of the flight crew she's fully capable of the duties expected of her for her passenger. But she doesn't expect Holden to offer something even better – a steamy overnight check-in at the mile high club. Since she's not a member of his regular staff and it's a one time deal, she's ready to let loose and live a little.
But Holden isn't quite ready to let go of the memory of his overnight flight with Cora. When he tracks her down in Sydney, one thing leads to another and then a steamy affair. But Holden isn't going to stay in Sydney forever. Can their fling lead to something more?
I enjoyed this latest story with the Hart siblings! Holden is going through a rough time in this story. He's recently found out that he's not actual a biological Hart, and is struggling with understanding why his now deceased 'father' would have gone to the lengths of adopting him and not telling him the truth. His two brothers Jagger and Theo keep trying to tell him that they don't care whether he's related to them by blood or not, they consider him family. He's been drinking a lot trying to cope with the news and figure out where he belongs. Into this cauldron of feelings comes Cora, a breath of fresh air and a woman who observes, listens and isn't afraid to call him out when needed.
For Cora, returning to Australia is a blessing and a curse. Having been raised by an alcoholic father, she hasn't dealt with the family home since he passed away, having taken the chance to escape and see the world as a flight attendant. She's also dealing with the memories of a pregnancy that ended in heartbreak. But it's time to deal with the past.
Holden is a great distraction, but as she starts to care for him, she is wary of the signs she sees of the way he is using alcohol as a crutch, and knows that for them to actually consider a future he's going to need to seek help first. With steamy love scenes and emotional heart to heart conversations, the author takes a story about two people dealing with loss and makes it into an enjoyable romance. The happy ending is very satisfying and the epilogue sets up some interesting secondary characters for the next in the series, which I'm looking forward to reading!

Book Info:

Publication: Sep 01 2020 | Harlequin Dare | The Notorious Harts #3
The third story in Clare Connelly's scandalous The Harts miniseries will leave you wanting even more!
"Unless you're after one night of hot sex—no guarantee he'll remember your name the next day." I should have listened to the warning. But I have only one passenger on this private flight: Holden Hart. Billionaire, brooding bad boy and the one Hart brother that no one dares mess with. Except for maybe me. Because with one glance from those hard, stormy gray eyes, my entire body feels like it's on fire. Dear God, the man is hotter than Hades.
Maybe, just this once, I can have what I want.
But when we touch, the sexual chemistry is hot and explosive. It takes over, pulling me down into some lust-ridden underworld where I know only the taste and feel of his skin, his mouth, and his ferocious hunger for me.
Neither of us has more to give than this. We're both running from ourselves, from our pasts. And if I'm not careful, I could fall hard for the gorgeous, sexy and oh-so-dangerous grenade that is Holden Hart. I already know too well the dangers of dealing with a man consumed by his own pain…so how could I ever survive a broken Hart?