Royal Pain by Tracy Wolff: Kian loves his life. While being royalty comes with protocol, duty, and service, it also comes with plenty of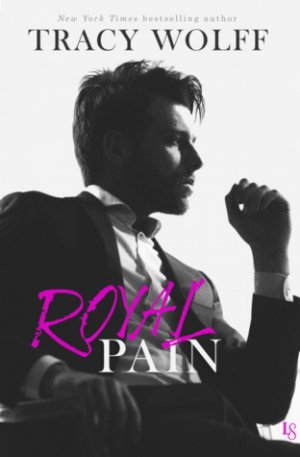 privileges. And Kian certainly enjoys those privileges as the younger twin brother, while Garrett has to be the more respectable brother and crown prince. Kian is known to be a playboy and enjoys his life as the "spare" until Garrett is unexpectedly kidnapped. His life changes in an instant as he's forced to step into his brothers' shoes. Kian and Garrett were always close, so it's incredibly difficult to now put on that public persona for the good of the country while being worried about his brother.
Savannah is a sassy American who fell in love with Wildemar as a student. She's happy to be back even if that means working a few jobs. She's smart, independent, and tells it like it is. Even when rescuing a prince. Kian is surprised and intrigued by the feisty waitress; Savvy is different from other women and certainly doesn't fawn all over him or give him everything he wants.
"Keys?" I hold out my hand.
"Umm, no." She shakes her head, shoots me a disbelieving look. "I'm driving. Obviously."
"That's not what we agreed on."
"Oh, I'm sorry, Prince Control Freak. But we never agreed on anything and riding in the passenger seat is the only way you're getting in my car."
Savvy is reluctant to get in a relationship with another royal despite their chemistry and connection; she's older, wiser, and has a better sense of her own self-worth. Kian isn't used to having to work so hard to charm a woman. She definitely challenges him. He loves that she treats him like the man he is rather than as just a prince. Trying to balance any relationship at the same time the country is in turmoil tests both Kian and Savvy.
"I can probably free up some room in my schedule if you want to make that fantasy a reality. I mean, if it means that much to you, far be it from me to deny you."
"Wow. Look at you." I reach out and pat his cheek. "Always putting somebody else before yourself."
"What can I say? I'm a giver like that."
Royal Pain is angst-ridden and oh so hot. Tracy Wolff created tension, conflict, and heat as Kian meets his match. Ms. Wolff created an interesting cast of royals, bodyguards, staff, and commoners that should be interesting to following in this series. Fans of Virna DePaul and Nora Flite will enjoy Royal Pain.
Book Info:

Publication: September 19th 2017 | Loveswept | His Royal Hotness #1
He's a womanizer. He's cocky. He's not exactly a prince. Only he technically is. Meet your new royal obsession in this addictive novel from New York Times bestselling author Tracy Wolff.
Being rich opens a lot of doors. When you're rich and royal, those doors lead to a new bedroom every night. I should know. The tabloids call me His Royal Hotness, Prince Kian of Wildemar. Women across the world see me as a naughty fairy tale, an image I'm happy to indulge. As the spare to the heir, I'm the prince with none of the power . . . and all of the perks.
Then my twin brother is kidnapped, and suddenly I'm the one who could be king. The crown chasers start circling—and yet it's a luscious waitress who catches my eye. With a smart mouth and the curves to back it up, Savannah Breslin is as brazen as I'd expect an American commoner to be.
But Savvy's not interested in playing Cinderella. As sexy as she is, she's no stranger to heartbreak. Besides, a nice guy wouldn't drag her into all the drama that comes along with royalty. Lucky I'm not a nice guy. And, as it turns out, I might not even be her first prince. . . .