In Royally Matched (Royally #2) by Emma Chase, Aside from his time in the military, Henry John Edgar Thomas Pembrook, Prince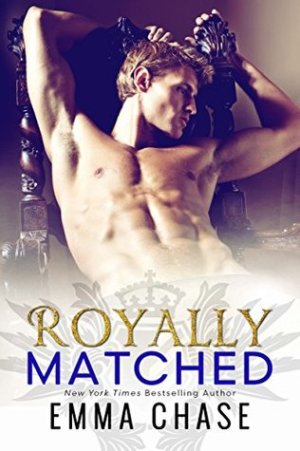 of Wessco, has spent much of his life living footloose and chasing after a bevy of beauties. But he certainly hasn't been groomed since birth to take over the crown, unlike his older brother Nicholas. After a major shake up in the royal family, Henry now finds himself next in line to the throne and with his grandmother, the Queen, unsure of his ability to do so. What he needs is to clear his head. And he's presented with the perfect opportunity when an American television producer pitches a reality dating show where he would choose his future bride. Amid all the mayhem and flirting, Henry is captivated not by the catty royals, but by a young woman who is not a contestant. And shy Sarah could steal his heart if he's not careful.
'I've never had someone who was just mine, body and soul–mine to protect and hold and love. And that's what Sarah is…she belongs to me now. We belong to each other.'
Lady Sarah Mirabelle Zinnia Von Titebottum only agreed to follow her younger sister Penelope to the reality show's set to avoid giving a public speech at work. Well, and to stay at a historic castle. And to keep an eye on her fun-loving sibling. She didn't think she'd come face to face with handsome Prince Henry. And Sarah never dreamed that he would flirt with her or show any interest. But soon the two of them become inseparable, finding out that they have much more in common than they could've guessed. Although Sarah longs to find out where their romance could lead, Henry has a reputation as being a heartbreaker. But oh, what delicious fun she could have before they go their separate ways…
"I think you might be a bully, Prince Henry."
"Well, in grade school I did enjoy pulling on the girls' braids. But these days I only tug on a woman's hair in a very specific situation." His voice drops lower. "Let me know if you'd like a demonstration."
Emma Chase hasn't let me down yet with any of her books. But I have to say that Royally Matched definitely kicked things up a notch. It had a bunch of memorable characters, a steamy as sin romance, and an honest connection between the hero and heroine that was tender enough to melt a girl's heart.
I had an absolute blast reading Royally Matched and getting to know Prince Henry and Lady Sarah better. If you've read book one, Royally Screwed (which I highly, highly recommend!), then of course you got a glimpse of them both and have probably been waiting to see how their story works out. But this can totally be read as a standalone if you're new to the series. Either way, I think readers will fall for Henry, with his life-of-the-party attitude, his love for his family, his dirty mouth, and his ability to reach out to others in need. I loved that he enjoyed having fun and making people smile, and that he owned his naughtiness. And Henry actually turned out to be a good influence on Sarah, helping draw her out of her shell and giving her confidence in herself.
Now Sarah was a character I could completely empathize with. I got a kick out of her book obsession and how she would picture someone as a classic book character like Mr. Darcy, Mr. Willoughby, Jane Eyre, etc. She had a wonderfully dry sense of humor and I loved that once she opened up with Henry, Sarah would tease and even tell dirty jokes, much to his delight. I think what I really found interesting with them as a couple was that they both unfortunately had darkness in their past, things they were still haunted by. But Henry and Sara were able to comfort and help each other through the issues, even with the wild antics of the reality show happening around them.
A raunchy but charming prince with a heart of gold and a bookish lady who hid her naughty side from the world. Sounds like an interesting pair, right? Sarah and Henry's grand romance was a knockout and just goes to show that opposites really do attract.
Book Info:

Publication: February 21st 2017 | Emma Chase LLC | Royally #2
Some men are born responsible, some men have responsibility thrust upon them. Henry John Edgar Thomas Pembrook, Prince of Wessco, just got the motherlode of all responsibility dumped in his regal lap.
He's not handling it well.
Hoping to force her grandson to rise to the occasion, Queen Lenora goes on a much-needed safari holiday—and when the Queen's away, the Prince will play. After a chance meeting with an American television producer, Henry finally makes a decision all on his own:
Welcome to Matched: Royal Edition.
A reality TV dating game show featuring twenty of the world's most beautiful blue bloods gathered in the same castle. Only one will win the diamond tiara, only one will capture the handsome prince's heart.
While Henry revels in the sexy, raunchy antics of the contestants as they fight, literally, for his affection, it's the quiet, bespectacled girl in the corner—with the voice of an angel and a body that would tempt a saint—who catches his eye.
The more Henry gets to know Sarah Mirabelle Zinnia Von Titebottum, the more enamored he becomes of her simple beauty, her strength, her kind spirit… and her naughty sense of humor.
But Rome wasn't built in a day—and irresponsible royals aren't reformed overnight.
As he endeavors to right his wrongs, old words take on whole new meanings for the dashing Prince. Words like, Duty, Honor and most of all—Love.