In Royally Screwed (Royally #1) by Emma Chase, It's good to be a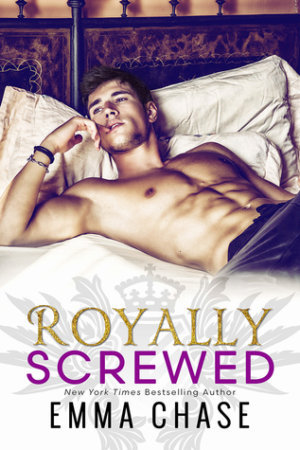 prince. Well, most of the time. Nicholas Arthur Frederick Edward Pembrook is the Prince of Wessco, but better known in the media as His Royal Hotness. He knows he has privileges and opportunities that most do not. But what the public doesn't realize is the amount of archaic rules he must adhere to. Including strict guidelines on who he will marry. So when Nicholas is in NYC on business and meets gorgeous waitress Olivia Hammond, who doesn't know and doesn't care that he's a prince, he must spend time with her. Their chemistry is undeniable but sadly their future is doomed as he knows he won't be allowed to marry someone not of noble birth. But that doesn't mean Nicholas can't enjoy every moment he has with his lovely Olivia until he must live up to his birthright.
"I love you, Olivia. I love you. And I don't know how to do this. I don't know how to let you go."
Okay, so throwing a pie into a customer's face is probably not a smart thing to do. Olivia knows that. But the charming-yet-irritating guy had it coming after trying to proposition her. Even if he turned out to be a full-fledged prince. She's surprised that after her show of attitude Nicholas is still angling for a date with her. And as handsome as he is, he could have any woman he wants, so Olivia isn't really sure she should trust his interest in her. But from their first evening together it's clear they have something very special between them. Something that could in other circumstances be a forever kind of relationship. Olivia decides that if all they have is one summer's worth full of delicious memories to look back on, then so be it. She'll take what time she has with Nicholas and cherish it for the rest of her life.
"Am I supposed to curtsy or something?"
"Please don't." And then the dimples make an appearance. "Unless you have the urge to do it naked, then, by all means, curtsy away."
He's flirting with me. It's a sweet, sliding, teasing dance, and more fun than I can remember having in a long time.
Emma Chase is back with a brand new contemporary romance series. And what a fantabulous start! This was all about a modern day royal, Prince Nicholas, as he fell in love with–gasp!–a commoner. What followed was a wonderful blend of Old World culture and rules clashing with today's beliefs and practices. So. Fun.
'Infamy is temporary, celebrity is fleeting, but royalty…royalty is forever.'
I'll admit that I'm already a fan of Emma Chase's work ever since reading Tangled. (I'm a Drew-girl forever! 😉 ) I have read everything she's released to date and she's never once let me down. So I was extremely happy when Royally Screwed met my every expectation. I'm not kidding when I say that it made me laugh too many times to count and it was sexy enough to make me blush. Who knew a proper prince could have such a wickedly dirty mouth? But, as always in Chase's romances, it was the fireworks and the palpable connection between our hero and heroine that stole the show. And this couple might just give the rest of the lovebirds she's created (so far) a run for their money.
Olivia and Nicholas truly did have a fun & playful, but yet intense, relationship. There was tons of heat between them as well as a lot of well written sexy-time scenes. And their bantering was as comical as it was fitting, given that it was an arrogant royal prince trying to date a mouthy New York waitress. Of course I ended up loving Olivia and how she owned who she was. Yes, she had moments where her lack of money or her dingy apartment might have caused her a bit of embarrassment. But she didn't let it bother her too much or let it go to her head that a prince was infatuated with her. Plus she kept Nicholas in his place, which was oh so much fun to watch.
There was a lot more to Nicholas than what met the eye once we got to know him. He might have seemed like a spoiled guy, but just like Olivia, he had many responsibilities lumped on him at a young age and learned to handle the pressure on his own. He really did have a heart of gold and wanted to do good in the world, helping others. I loved that Nicholas was especially touched by Olivia's blunt honesty and that she understood how difficult it was to be him sometimes. Even with the world watching him, he felt isolated and lonely until she came along and could see who he was underneath the designer clothes and the public persona. And it endeared them to me even more with how they both watched out for their younger siblings and kept true to their families.
Emma Chase has created magic yet again. I think readers will fall in love with Olivia's bold attitude, Nicholas's bit of arrogant swagger, and certainly their generous hearts, which made them a perfectly lovely, entertaining pair. Very highly recommended.
Book Info:

Publication: Published October 18th 2016 | Emma Chase, LLC | Royally #1
Nicholas Arthur Frederick Edward Pembrook, Crowned Prince of Wessco, aka His Royal Hotness, is wickedly charming, devastatingly handsome, and unabashedly arrogant; hard not to be when people are constantly bowing down to you.
Then, one snowy night in Manhattan, the prince meets a dark haired beauty who doesn't bow down. Instead, she throws a pie in his face.
Nicholas wants to find out if she tastes as good as her pie, and this heir apparent is used to getting what he wants.
Dating a prince isn't what waitress Olivia Hammond ever imagined it would be.
There's a disapproving queen, a wildly inappropriate spare heir, relentless paparazzi, and brutal public scrutiny. While they've traded in horse drawn carriages for Rolls Royces, and haven't chopped anyone's head off lately, the royals are far from accepting of this commoner.
But to Olivia, Nicholas is worth it.
Nicholas grew up with the whole world watching, and now Marriage Watch is in full force. In the end, Nicholas has to decide who he is and, more importantly, who he wants to be: a King… or the man who gets to love Olivia forever.