In Royally Yours (Royally #4) by Emma Chase, Knowing your whole life that you will one day become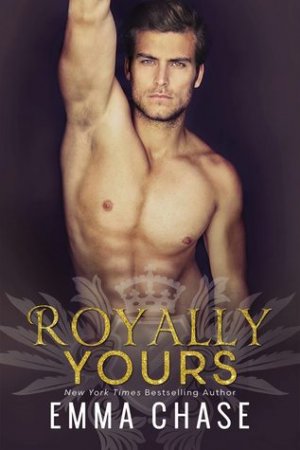 Queen carries a fair amount of responsibility. Especially as a young girl. But when Princess Lenora Celeste Beatrice Arabella Pembrook suddenly becomes Queen in her late teens, she realizes that she had no clue how many burdens she would truly bear as the ruler of Wessco. A change in leadership is bound to also cause a shakeup in the advisory council. Although Lenora never dreamed the biggest concern her advisors would have would be that she is a single woman. Not ready to get married quite yet–she hasn't even turned twenty, for heaven's sake!–it becomes clear that marriage is a huge part of the bargain. So when a cruel twist of fate puts Lenora in Edward Rourke's path, throwing them together in their grief, a relationship begins. One that is important. And one that will prove to change both their lives forever.
"Long live Queen Lenora!"
And that's the moment. The moment the fog clears and the circumstances of who I am–what I am–becomes as real as real can be.
Queen Lenora.
Ready or not…here comes the crown.
Edward Langdon Richard Dorian Rourke has spent about a decade away from his home in Wessco, first in the military and then traveling, living free and having grand adventures. Family news brings him home one stormy day where he meets and almost instantly falls for Lenora. For a Queen, she has a carefree, wild side that calls to Edward. He can see that life with her would never be dull and would instead be full of desire and the unexpected. But having given up his title a decade ago, he's not sure he would be a match for Lenora. Good thing she won't let her advisors boss her around when it comes down to it. Because as Edward embarks on his new life with his Queen, he soon figures out that she is the perfect woman for him in every single way. And he will do anything in the world for her.
'I was made for this…for her. To cherish her, protect her and challenge her, to guide her and follow her–to be the man she needs, so she can be the woman, the queen, she was always meant to be.'
Oh. My goodness. Royally Yours took us back in time to where the epic romances in Wessco truly began: with Lenora and Edward's tender, passionate, absolutely sweeping tale of heartbreak, political power struggles, and love. So much love.
What's better than a modern royal romance? How about a prequel that explains how the royal family in Wessco became a monarchy (instead of a patriarchy) in the mid-fifties–and how a romance for the ages began out of the depths of grief and despair. Now this can be read as a complete standalone, but I think for fans of Emma Chase's Royally series, this book will have special meaning. And there will be a lot of "Easter eggs" to find, including family names and people who become important to the Pembrooks over the years. This also gave us the backstory on why Queen Lenora was every bit as strong as she appeared–and pretty darn cool–and it explained her devotion to her Edward, which is talked about a fair amount in the first couple of books.
I liked how Emma Chase started this off in 1945 when Lenora was around eight years old, then skipped ahead every couple to few years so we got to see her childhood (such as it was) and as she grew into an adult. There was a lot of tragedy that touched Lenora's life and unfortunately a lot of responsibility heaped onto her shoulders at a young age. I thought she was tremendously level-headed, smart-as-a-whip, and ahead of her time in her thoughts on women in politics. I adored Lenora and wanted to see how she found her forever love. It was actually through her friendship with Thomas Rourke, the Duke of Anthorp, that she fell for his older brother Edward. It was sad how their romance began, but theirs became an achingly tender and incredibly passionate relationship that made me cry a few times–but ultimately had me smiling and about ready to swoon.
Love stories don't get much more grand or captivating than the one you'll find in Royally Yours. How Emma Chase will ever top this story, I have no idea. But I certainly can't wait to see what's next.
Book Info:

Publication: October 30th 2018 | by Emma Chase, LLC | Royally #4
New York Times bestselling author Emma Chase returns with a sweet and sexy standalone in the Royally Series.
Princess Lenora Celeste Beatrice Arabella Pembrook had an unusual childhood. She was raised to be a Queen—the first Queen of Wessco.
It's a big deal.
When she's crowned at just nineteen, the beautiful young monarch is prepared to rule. She's charming, clever, confident and cunning.
What she isn't… is married.
It's her advising council's first priority. It's what Parliament is demanding, and what her people want.
Lenora has no desire to tie herself to a man—particularly one who only wants her for her crown. But compromises must be made and royals must do their duty.
Even Queens. Especially them.
**
Years ago, Edward Langdon Richard Dorian Rourke, walked away from his title and country. Now he's an adventurer—climbing mountains, exploring jungles, going wherever he wants, when he wants—until family devotion brings him home.
And a sacred promise keeps him there.
To Edward, the haughty, guarded little Queen is intriguing, infuriating…and utterly captivating. Wanting her just might drive him mad—or become his greatest adventure.
**
Within the cold, stone walls of the royal palace—mistrust threatens, wills clash, and an undeniable, passionate love will change the future of the monarchy forever.
Every dynasty has a beginning. Every legend starts with a story.
This is theirs.