Rule Breaker by Sienna Snow wowed me right from page one. The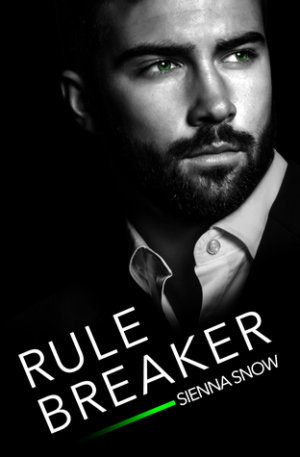 characters are intelligent, tenacious, and a breath of fresh of air for this particular trope.
Arya is beautiful, smart, and shows her dominance when it comes to the boardroom. This heroine doesn't play. She's brilliant with a backbone and it's easy to see who's really in control. When Max broke up with her, it destroyed her. She has scars from their past relationship and even though she wants Max more than anything, she doesn't want to get hurt again. Because of this, she agrees to be his submissive on a short term basis. What she doesn't count on is Max's persistence in making her his wife!
Max made a mistake with ending things with Arya and he wants her back. He's gone out of his way to put Arya in his sights again and he refuses to let her get away. Arya is different now. She's turned into a control freak and Max is out to push her boundaries. He remembers her submission in great detail and when business is done for the day, he plans to remind her who's in charge.
The chemistry between Arya and Max is off the charts and you can feel their intensity for each other, but when Max discovers the secrets Arya is hiding, will their relationship break beyond repair or will love triumph over everything?
This book was very well-written and you can tell a lot of detail went into this story. Sienna Snow's debut novel is nothing short of amazing. The billionaire dominant trope has been given an upgrade and it's flawless! If you enjoy strong heroines, billionaires, or the BDSM lifestyle, this books NEEDS to be your next read!

Book Info:

Publication: November 1st 2016 | Hachette | Rule Breaker #1
She controls a technology empire. He controls her.
At just twenty-eight years old, Arya Rey has become queen of the tech world. While she is highly respected as a philanthropist and fearless businesswoman, no one would suspect that beneath her controlled exterior simmers a private passion. A desire never spoken of in Boston's elite social circles. A need for submission, for satisfaction, for the kind of exquisite pleasure that can only be provided by one man . . . her billionaire ex-lover Maxwell Dane.
It's been five years since Max and Arya last met. Five years that they've longed for the feel of each other's skin. Max always takes what he wants, and he wants Arya back. But it's more than the memory of her broken heart that makes her resist. During their time apart, Arya has collected secrets of her own. She can give Max her body, but can she give him the truth?