In Someone to Love (Westcott #1) by Mary Balogh, Miss Anna Snow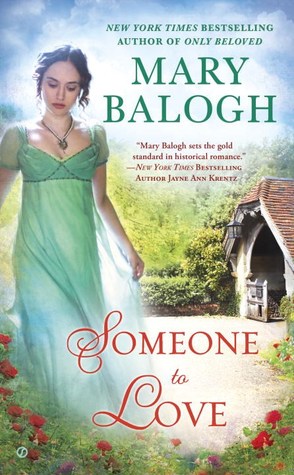 has always wondered if she had family somewhere in the world while she was growing up in an orphanage in Bath. Now as a teacher still living in the same orphanage, she receives a letter that takes to her London. There Anna finds out that she does indeed have two half-sisters and a half-brother, along with aunts, uncles and cousins. But her existence was not known to them so it causes much turmoil in the Westcott family when Anna turns out to be the only legitimate child of the late Earl of Riverdale.
'It was all too dizzying and too much to be comprehended. All these people, all these aristocrats, were her relatives.'
All Anna wants is to connect with her siblings but they turn her away, leaving her with a fortune she has no idea with to do with and her entry into Society looming over her. Then there is Avery Archer, the Duke of Netherby, who has ties to her family but is not a blood relation. He takes an interest in Anna's transformation from schoolteacher to elegant Lady, much to her–and his–surprise. Avery's attempts to remain cool and standoffish in her presence do not work and he finds himself fascinated with Anna's spirit and genuine goodness. They both will be expected to marry soon. Could a match between them be successful?
"It must have taken you a lifetime to perfect the art of being a duke," she said."Anna." He sounded almost pained. "If there is an art I have perfected, it is the art of being me."
Someone to Love was a thoughtful historical romance in the brand new Westcott series by Mary Balogh. An epic rags-to-riches story that shook one family to its very core, this exceedingly well-written novel introduced us to some intriguing people and had a slow burn romance that was absolutely wonderful.
"You once told me, Avery, that your dearest dream was to have someone to love."
His eyes gazed back into hers, wide-open, very blue in the fading evening sunlight and the flickering light of the candles. "Yes," he said.
"Can I be that someone?" she asked him.
Now this being a brand new series, there were a lot of characters to get to know as well as we had to learn about the Westcott family's history. So it was a bit slow to start out but it did pick up after Anna met her family and it kept building from there, leaving me smitten with Avery and the rest of the group. I really enjoyed the overall storyline and thought Balogh did well (as always!) with the character development. And it wasn't just our hero and heroine who grew by the end, but also a few of the secondary characters who I'm sure we'll be seeing more of in the future.
I must say that I liked Anna right away. She was a warm, levelheaded, compassionate woman who had been given a tough start in life. I think what I liked best was how she stayed grounded as she adjusted to her new life as part of the aristocracy. Anna kept her strong beliefs and stood her ground when her family wanted to change her into a replica of every other Society lady. It was great watching her stand up for herself with Avery, too.
Things started off shaky for me with Avery as I was not really sure about his snobby and aloof ways. But Anna saw right through him and knew there was something more to his personality that he didn't show others. I did love that he was not your typical hero. Avery was a bit smaller in stature than most men yet he wasn't afraid to be bold, wearing flamboyant clothing and using his quizzing glasses to make a statement. I did enjoy Anna and Avery's conversations very much. They were lively and intelligent, thanks to both of them possessing a lovely dry wit.
If this is an indicator as to how the rest of the series will be, then readers can count on a heartfelt, emotional journey as we get to know each member of the Westcott family on their path to love and a HEA.
Book Info:

Publication: Published November 8th 2016 | Signet | Westcott #1
Humphrey Westcott, Earl of Riverdale, has died, leaving behind a fortune that will forever alter the lives of everyone in his family—including the daughter no one knew he had…
Anna Snow grew up in an orphanage in Bath knowing nothing of the family she came from. Now she discovers that the late Earl of Riverdale was her father and that she has inherited his fortune. She is also overjoyed to learn she has siblings. However, they want nothing to do with her or her attempts to share her new wealth. But the new earl's guardian is interested in Anna…
Avery Archer, Duke of Netherby, keeps others at a distance. Yet something prompts him to aid Anna in her transition from orphan to lady. As London society and her newfound relatives threaten to overwhelm Anna, Avery steps in to rescue her and finds himself vulnerable to feelings and desires he has hidden so well and for so long.