Ruled by Anne Marsh is one of the first entries in the new Dare imprint from Harlequin. As a biker club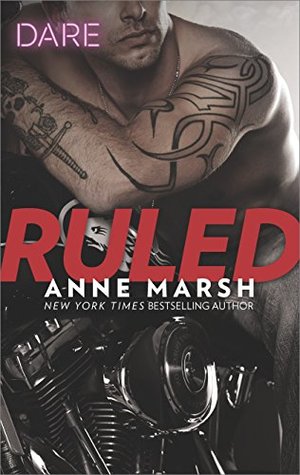 romance, it definitely fits this new category line. One should expect that stories in this line will have the heat factor of a Blaze, turned up a notch. Kinky sex (such as threesomes, BDSM, toys etc.) and crude language are definite possibilities so readers should not be surprised to find stories that may push their comfort zone, if they don't normally read erotic romances. Your best bet is to read the synopsis before picking up a story, if you're not sure if they are for you. I, on the other hand, am a fan, and am ready for the wild ride of the Dare line!
Evie Kent has a successful party planning business, with princess dresses, a dragon and any other number of delights for young girls. Her silent partner is her younger brother Rocker. As young children, she became Rocker's protector when their father, a member of a motorcycle club, was arrested and jailed for life. She knows about the lifestyle, and has tried to stay clear of it but her brother has fallen in with the Black Dogs who are involved in the drug trade. She doesn't want to believe that he'd be dealing drugs and guns but when a rival gang member approaches her to try to make contact with Rocker, she must accept the truth. What she doesn't expect is the intense sexual attraction between her and Rev, full fledged member of the Hard Rider MC.
Jaxon Brady, a.k.a Rev, is a former SEAL, and all the members of Hard Rider are ex-military who came out of their one time careers looking for another place to belong. They keep their territory drug free and protect their own. To stop the flow of illegal goods through their streets they are willing to talk with the Black Dogs before upping to a more violent solution. When Rev meets Evie, he finds himself adding her to his list of people to protect, knowing that her brother's dealings could spell trouble for her personally. A steamy affair ensues. But Rev's loyalty is always to his club first. When he is forced to choose between them, will it spell the end of what they've been building together?
This romance falls in line with other motorcycle club books that I've read. There's plenty of hot sex, lots of swearing, and a gritty edge to the story. I really liked the characters, with Evie being a smart and friendly woman who wanted to believe the best of her brother, even as she finds out the truth of his dealings with the Black Dogs. There's no sugarcoating the reality though.
For his part, Rev is a hard nosed biker with a soft spot for Evie, though he still makes some decisions that require restitution. The loyalty question is a constant one, with his feelings for Evie and for his brothers at the club in conflict. He can be arrogant and cocky, but sweet too. There are some intense action scenes in the second half leading up to the happy ending, and a glimpse of what's to come next in the series. I'm looking forward to reading more from this author!
Book Info:

Publication: 01 Feb 2018 | Harlequin Dare | Hard Riders MC #1
The Rebel vs. The Princess
Complete opposites who share the same burning passion!
Jaxon Brady of the Hard Riders MC has sworn to protect Evie Kent from a rival gang. His hard muscles and black leather motorcycle boots are a sharp contrast to the girlie dresses Evie wears for her successful party-planning business. Their instant attraction is magnetic, and their lust keeps them glued to each other's side…but is it a dangerous distraction?