In My Last Love Story by Falguni Kothari, After a few years of ultimately unsuccessful treatments and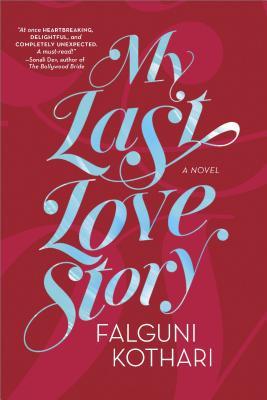 procedures, finding out that her husband Nirvaan was dying of cancer was a crippling blow to Simi Desai and to their best friend Zayaan. The trio, dubbed the Awesome Threesome in their teens, has always raised eyebrows with their unusual bond. And it has admittedly caused a few rifts between them and with family members over the years. But with Nirvaan wanting to live what's left of his life to the fullest, Zayaan moves into Simi and her husband's California beach house ready to embark on their final adventure together.
'That was our naked truth. The three of us loved each other–without reservation, without malice. I wanted to know why it was wrong. Why were we kinky and deviant and different for accepting what was in our hearts and not trying to fit the mold?'
When it becomes clear that Nirvaan has more than just fulfilling his bucket list on his mind, trying to convince Simi to have his baby and push her back into Zayaan's arms–who was her first love–she finds herself searching her heart for the right thing to do. Especially when secrets from the past come out, forcing her to finally come clean about a tragic event that happened on her eighteenth birthday. The fallout might prove to be too much for the trio to handle. Or it may be the catalyst to bring them infinitely closer together. Only time will tell which way it will turn out.
'When you'd fashioned your whole life around a secret, it wasn't so easy to give it up.'
Honest, raw emotions dominated the pages in My Last Love Story; a novel about friendship, a complex love triangle, one man's brave struggle against cancer and how it affected those he loved. All of which was viewed through the eyes of his wife, Simi.
"Imagine I'm an ocean. You are the bright sunlit part of me, and Zayaan, the darker depths. I need you both to be who I am. I love you both. Always have. Always will. But, Nirvaan, you are my last love story. I don't want another one."
Possible Trigger Warning: Sexual assault, love triangle, cheating, and scenes detailing cancer treatments and the disease's progression.
I have to say that my feelings were all over the place with this book. Not necessarily in a bad way. I really liked the storytelling and how Falguni Kothari was able to convey Simi's every emotion as we followed her thoughts on her husband Nirvaan's diagnosis and treatments as well as her history with him and their best friend Zayaan. I even found the unusual bond between the "Awesome Threesome" to be genuine and interesting. It was more toward the end of the book and one of the choices Simi made (which I won't divulge so it won't ruin things) that gave me pause. To me it felt like an almost callous, disrespectful thing for her to do and a tad selfish on her part. It had to do with the powerful connection she had with both Nirvaan and Zayaan and her tendency to almost play them off of each other, wanting them both in different ways.
Like you can see from the trigger warning, this will not be the book for everyone. And it will definitely toy with your emotions, even for the hardiest of readers. There were lovely descriptions of the connection between Simi, Nirvaan and Zayaan and the crazy/wonderful things they did in their teens together as well as the heartbreaking situation they found themselves in later on. I loved learning more about their culture and the religious views of their families. It was something that brought some tension and pain to their relationship, but I thought it was realistic from my (limited) understanding. I think with the way Falguni Kothari wrote this, readers will find themselves wondering how they would handle the same set of circumstances and how they would cope with everything tragic that happened to Simi. So even though I might have chosen to do things differently, I certainly felt compassion for her and liked that the book ended on a much more positive note than I at first thought it would.
Poignant, heartrending, and possibly a tad controversial–thanks to the trio's unconventional relationship–My Last Love Story undoubtedly makes an emotional impact on its reader.

Book Info:

Publication: January 23rd 2018 (first published 2016) | Graydon House |
Promise me you'll learn to cuss, learn to love again. Live again. Promise me you won't give up on each other.
Simi Desai is thirty years old and her husband is dying of cancer. He has two last wishes in his final months: first, that she'll have his baby so that a piece of him lives on, and second, that she'll reconcile with her old flame, who just happens to be their mutual best friend. And so over the course of their last summer together, Simi's husband plans a series of big and small adventures for this unlikely trio, designed to help them say goodbye to each other and prove to Simi that it's okay to move on without him–and even find love again.
Beautiful and poignant, Falguni Kothari's My Last Love Story will pull your heartstrings as only unforgettable love stories can.