Rumors on the Red Carpet by Carole Mortimer: Cynthia 'Thia' Hammond's life changes when she catches the eye of zillionaire Lucien Steele at a party where the renowned business mogul is a chief guest. Her seemingly normal life changes with a blink of an eye when Lucien whisks her away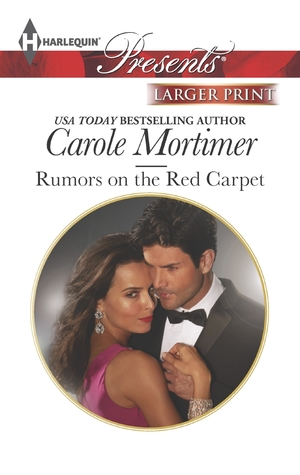 into the glittering world of New York's scandalous elite and the glare of the paparazzi flashbulbs.
Lucien deepened the kiss even as he moulded her slender curves against his own much harder ones, intoxicated, lost in Cyn's taste as he ran his tongue along the pouting softness of her bottom lip. Groaning low in his throat, he let his tongue caress past those addictive lips and into the heat beneath, plunging, possessing that heat as his hands moved restlessly, caressingly, down the length of her spine.
Rumors on the Red Carpet by Carole Mortimer was a fast paced, well written with enough steam to get your pulse racing. The entire plot is about how the hero seduces the heroine and ultimately falls in love with her in a span of four days. While love at first sight is a good concept, it should be believable which it was not and appeared more of lust at first sight to me.
Lucien was a zillionaire at the age of thirty five and owned almost every business possible. Though he had a sad childhood, it did not affect him quite that much in the present. Thia was a twenty three old hardworking waitress working for a degree in her spare time. Both the characters were too perfect for my liking and I could not connect with them because I just did not understand their actions for the major part of the book. Thia has heard about Lucien Steele but does not know what he looks like and this was a little farfetched for me seeing how the man obviously owns almost everything and is very popular. So unless Thia lives in a print, mass and social media free city she should have known about what Lucien looks like.
'Sorry,' she mumbled self-consciously, passing the glass quickly into her other hand with the intention of licking the spilt wine dripping from her fingers.
'Let me…' Lucien reached out to catch her hand in his before it reached her parted lips, his gaze easily holding hers as he carried her fingers to his own mouth before lapping up the wine with a slow and deliberate rasp of his tongue. 'Mmm, delicious.' He licked his lips. 'Perhaps I should consider always drinking wine this way…?'
Rumors on the Red Carpet is fast paced, well written with a good amount steam but the shortcomings outweighed the good things for me. Carole Mortimer is a great author but this book just fell short of my expectations.
Book Info:

Published November 19th 2013 by Harlequin Presents (Book 3195)
Learning at the hands of a billionaire
When the chance of a dream holiday lands in Thia Hammond's lap, it's too much to resist. Suddenly this innocent waitress is propelled from her quiet English life into the glittering world of New York's scandalous elite and the glare of the paparazzi flashbulbs.
Catching the eye of internationally renowned business mogul Lucien Steele, Thia's about to learn a thing or two about life and love in the fast lane! For once in her carefully ordered existence she will take not what is safe, but what she really wants.