In If You Were Mine (Sullivans #5) by Bella Andre, Zach Sullivan already has his hands full with his auto business, racing cars, and chasing after the ladies. Then his niece talks him into puppy sitting while she and her parents are on vacation. Who knew such a tiny creature could wreak so much havoc? Zach gets referred to dog trainer extraordinaire Heather Linsey and his world gets turned upside down. Heather wants nothing to do with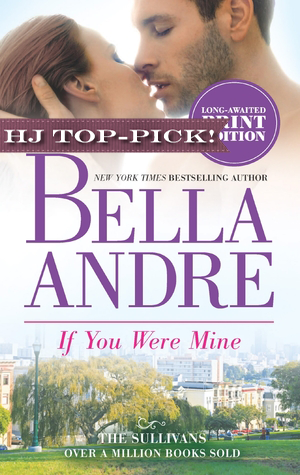 him personally, concentrating solely on helping him with the puppy until they strike a bargain letting them both have what they want. Zach's heart wasn't part of the bargain but that's exactly what Heather has stolen before he can figure out what to do next.
'The thing was, he wanted Heather bad enough that he was willing to break a few rules for her. Not the big one, of course. He wasn't going to fall in love with her or anything.'
Heather Linsey promised herself she would never fall in love. Especially with a confident, charmer of a man who has women falling over themselves, like Zach Sullivan. Her initial impression of him is that he's a player just like someone who hurt her badly when she was a teenager. But Zach surprises her as they spend more time together. There is a caring, gentle man who adores his family under all the bravado. And that scares her because she's determined not to get hurt. All of Zach's attempts to charm Heather finally break down her defenses and then she's left wondering how she'll get out of the situation unscathed.
'And that was precisely what scared her: the real man beneath the jokes and the sexual innuendos. She could fight her reaction to the charming Zach, but the sweet, loving, genuine Zach was a whole different story.'
If You Were Mine is another incredibly romantic addition to the Sullivans series by Bella Andre. It seems like every time I read about the next Sullivan, I fall in love with them, and then with the whole family, all over again.
Zach and Heather's story really kept me entertained. From their first meeting where Heather gets the wrong impression of Zach, to his attempts to win her over with the cuteness that is Cuddles the Yorkie puppy, I couldn't get enough of their evolving relationship. Not that either one of them wanted to admit that they were in a relationship.
"That's why we should stop seeing each other–before either of us gets any deeper."
"Too late." His eyes flashed with surprise and he stared at her in the same stunned disbelief that she'd just experienced moments before. "Holy hell, I think I'm already in love with you."
I was blown away with how sweet and loving Zach turned out to be and how hard he tried to keep Heather from getting hurt later on. His caring nature showed through in his every action (and interaction) with his family, Heather, and of course Cuddles and Atlas. I can understand how Heather's past was something that would define how she viewed men and why she would shield her heart at all costs. But, boy, once she lets herself love someone…she loves them with everything she has. Talk about two people who are meant for each other! And their first kiss? *dreamy sigh*
Book five is written with enough of a backstory that it can definitely be read as a standalone–but who would want to? 😉 The character development is amazing, the love scenes are sexy but also tender and caring, and the drama is everything I've come to love and expect from Bella Andre. Somehow each story seems fresh and unique even though they all fit together, intertwined to give us a view of the Sullivans as a whole.
I can't recommend If You Were Mine enough. If you are a fan of contemporary romance with a lot of laughs and a HEA that will make you cry happily, definitely give this one a try!
Book Info:

 HJ Top Pick
Published October 29th 2013 by Harlequin MIRA | Series: The Sullivans #5
Finding forever…with you
The last thing Zach Sullivan wants is to take care of his brother's new puppy for two weeks. That is, until he meets the dog trainer. Heather is bright, beautiful…and she just might be the only woman on earth who wants nothing to do with him.
Heather Linsey can't believe she agreed to train Zach's new pup, especially since his focus seems to be more on winning her heart than training his dog. Having sworn off love, she has vowed never to fall for a charming man. But Heather's determination to push Zach away only fuels his determination to get closer—and the sensual and emotional connection between them grows more undeniable. Will the biggest Sullivan bad boy of all tempt Heather into believing in forever again?