Run Wild With Me by Sandra Chastain is a surprisingly sweet and fun read that will keep you hooked till the very end.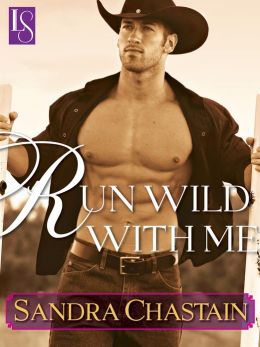 Sam Farley grew up with his mother following the oil towns. She told him stories about his grandmother's house in Arcadia, Georgia. She always dreamed about going back home, but she never made it home. Now with his mother gone, he made a promise that he would at least visit his grandmother's house before it was auctioned off.
Andrea Fleming is used to doing paperwork as city clerk not being a sheriff, but since her father the actual sheriff, will be in a cast for a couple of weeks, she has been selected to take his place in the meantime. But when she gets a call about a vagabond in Millie's old boarded up house she knows that she must show up, and with her gun at the ready, even if she did remove the bullets first. The only bad thing is that it's late and there is a storm coming that will not help her at all.
As Andrea meets Sam, she is surprised by what she finds, she doesn't believe his story completely since he doesn't have his documents that will prove his story, but since she has no backup and no way to defend herself she decides to try and be amicable and return the next day during daylight to verify facts.
As Sam and Andrea spend time together they find their attraction to be undeniable, but Andrea knows that things can only be temporary since Sam is only passing by and will not stay. It will be up to Sam convince Andrea that risking her heart on him is worth it and that he will treasure it very day for the rest of his life.
For a fun and entertaining read don't miss Run Wild With Me by Sandra Chastain.
Book Info
Publisher: Loveswept (May 13, 2013)
A Loveswept Classic Romance
Sam Farley grew up hearing stories about his late grandmother's house in Arcadia, Georgia, but for all his travels, the small town is one place he's never been. So when he shows up, on foot, in a ferocious storm, he quickly has the locals buzzing: Who is this dark-eyed vagabond, and what does he want with Millie's old, boarded-up house? Sam never intends to stay long—just long enough to see the house before it's auctioned off. Then he meets the gorgeous city clerk, Andrea Fleming . . . and gives her a kiss. Now Sam's torn between his desire for this intoxicating woman and the terrifying prospect of staying in one place.
Andrea is undeniably drawn to the brooding journeyman carpenter with his stories of faraway places. But she belongs in Arcadia and is certain that she will be nothing more to Sam than a fling, a way station on the road to all the places he hasn't yet seen. But despite her deep misgivings—and the warnings of everyone around her—Andrea finds herself falling for the wickedly handsome wanderer . . . come what may.