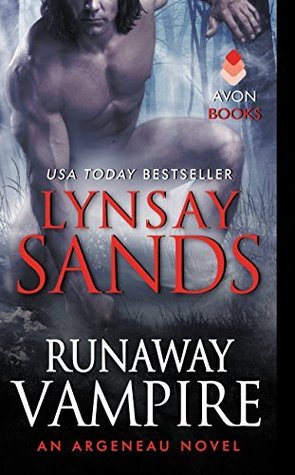 In Runaway Vampire (Argeneau #23) by Lynsay Sands, Immortal Dante Notte is on the run from the bad guys who still have his twin brother Tomasso captive when he is literally run over by the woman who turns out to be his life mate. He never expected to find her so early in his life but knows he will cherish every moment with sassy Mary Winslow. That is, if Dante can convince her that he is truly an Immortal (not crazy) and they can manage to stay one step ahead of his abductors in his search to rescue his twin.
"What does 'tesoro' mean?"
"Treasure," Dante answered.
"Really?" Mary asked, her expression softening.
"Si. It is most often used like 'dear'," he murmured, reclaiming the chair. "But you are my treasure, Mary."
Mary's RV trip this year just isn't the same since losing her husband a year ago, even with her loyal dog Bailey to keep her company. But when Dante literally–and nakedly–bursts into her life, everything changes. She feels an attraction to the tall, dark and handsome man that scares her a bit. Especially since he appears to be half her age and he's talking nonsense about controlling people's minds and needing blood to survive. Mary feels obligated to help him considering she ran him over. But why does she believe him when he talks about her being his life mate? And why does a future with Dante sound so tempting?
"Someone has an ego on them," she growled. "I am not attracted to you. You're a child. I'm an older woman. I like big boys."
"I'm a big boy," Dante said easily, managing not to sound like a braggart as he stated the obvious.
So much fun! Not only did Runaway Vampire have me laughing so many times I lost count, but Dante and Mary had me swooning over their tender yet steamy relationship. Loved. It.
You would think that by book twenty-three in the Argeneau series things would be getting pretty played out and a tad boring. Nope. Not with the characters Lynsay Sands creates and certainly not with the exciting and entertaining situations they always find themselves in. And for me, Runaway Vampire seemed to have the best of everything I've come to expect from this series. There were exciting action scenes, comical interactions between all the family members, a feisty but caring heroine, and a gigantic Italian sweetheart of a hero.
I'll be honest. I thought the perceived age difference between Mary and Dante would weird me out when I started reading this story. But knowing that Dante was a vampire who was older than he looked helped me get past that quickly. I ended up absolutely adoring both characters and loved them together. Mary stood her ground and didn't take any guff from Dante or anyone else for that matter. However, she loved with her whole heart once she gave in to her feelings. It was nice to see her come out of her remaining grief and start to enjoy a playful connection with Dante as they got to know each other.
And Dante? I knew he was a soft-spoken behemoth of a man, but I had no idea that he would turn out to be so loving and gentle with his life mate. Talk about making a reader's heart go all mushy! Especially when Dante started speaking Italian to Mary. How romantic… I think what I enjoyed most about his character was that he was protective of his loved ones and was always trying to do what was right, even if it meant putting himself last. That made him a true hero in my eyes.
Whether this is your first introduction into this world or if you're an avid fan, I think Mary, Dante and the Argeneau's in general will win over readers completely. Runaway Vampire basically had a Happy-For-Now ending so I can't wait to see what happens in the next book!
Book Info:

Expected publication: February 23rd 2016 | by Avon | Argeneau #23
The latest entry in the sizzling paranormal vampire series featuring the Argeneau family – no one does wickedly funny and irresistibly steamy like Lynsay Sands!
Dante Notte has heard it said that love hurts. He just wasn't expecting it to run him over in an RV. Still, a punctured lung and broken ribs are nothing compared to the full-body shock he feels whenever he's near the vehicle's driver, Mary Winslow. He needs to keep her safe from their pursuers while he rescues his brother. Most challenging of all, he needs to claim this smart, stubborn woman as his life mate.
The naked, injured, insanely gorgeous younger man who clambered into her RV insists they belong together. If Mary wasn't feeling their incredible connection in every inch of her being, she wouldn't believe it. But now that the men who took Dante's twin are after her too, trusting her gut means risking her life for an immortal who's the very definition of a perfect stranger.