The Greek's Ready-Made Wife by Jennifer Faye: This is one deal he is just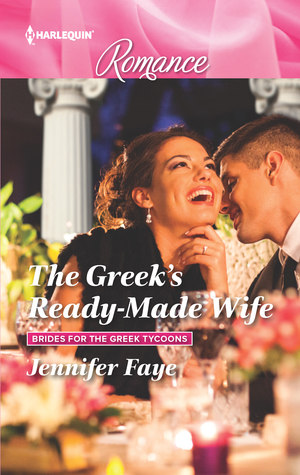 not willing to admit defeat to, even if it means he needs to find a wife, and quickly.
Cristo Kiriakas was a good businessman. He had spent his whole life trying to impress his father and build his business better and better. Now the problem was he was trying to strike a deal with an old school Greek who saw family first and that was one thing Cristo didn't have. In this day and age though it wouldn't be too hard to "buy" one for a little bit, right?
Kyra Pappas wasn't about to love. She had other things to do, take care of her mother, get her degree, land on her own two feet. Still a marriage for business? Could she really do that? When she married she wanted to come first, not business. Maybe as a fiancée she could do it though, maybe.
What starts off as ruse may lead to more as two people are forced into a condensed space and have an act to portray. However when family starts to come into play all bets are off.
This was an unusual choice for Ms. Faye. The plot is very Cinderella, but holds an interesting twist that most won't see coming. I wish we had got more description of the area, but the descriptions of the characters and everything going on in their lives were amazing. It really helped to create the whole picture view. This was a good read and for fans of the Cinderella, family dramas it will be a big hit.
Book Info:

Publication: March 8th 2016 | Harlequin Romance | Brides for the Greek Tycoons #1
Brides for the Greek Tycoons
Book 1 – The Greek's Ready-Made Wife (Kyra & Cristo)
Book 2 – The Greek's Nine-Month Surprise (Sofia & Niko)
Tipping the maid…with a diamond ring!
When chambermaid Kyra Pappas enters the hotel suite, she's not expecting a marriage proposal! But tycoon Cristo Kiriakas believes she will make the perfect convenient bride to help secure a vital deal—and in return, he'll help her find her long-lost family.
Kyra is sure she can handle planning a wedding with no emotional entanglements—but is soon fighting the temptation to kiss her gorgeous fake fiancé! Relationships have only ever meant heartache for these two lost hearts—but together, can they make their fairy-tale ending finally come true…?