In Sacrifice (Bloodline Vampires #1) by Katee Robert, Mina has spent years under her abusive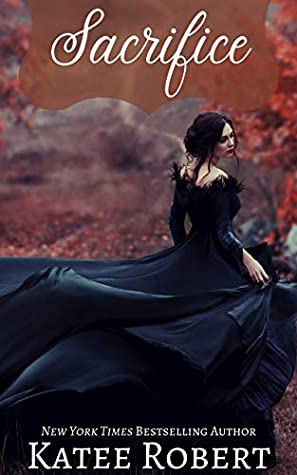 father's lock and key, craving freedom and wanting to be treated as someone's equal instead of the hybrid half-human, half-vampire she is. Unfortunately the only way Mina will leave her father's home is to be taken to vampire Malachi Zion's mansion to basically become his prisoner. She will be nothing better than a blood donor and perhaps even possibly become pregnant with his heir. But a child will have her father swooping in, taking over so he can raise the heir who would belong to a powerful ancient bloodline.
'There's one lesson my father taught me, one I cannot afford to forget. Not even with Malachi. Especially not with him.
Everyone is the enemy.'
Malachi's aging home and gaunt look tells Mina a lot about his situation. But even as hungry for blood as he must be, he's relatively kind to her. Something she's not used to. Is it any wonder that with each day they spend slowly getting to know one another, Mina feels a powerful connection growing? Her attraction to Malachi is put to the test when two of his friends, Wolf and Rylan, show up, bringing with them a back-history between the three vampires and a boatload of power. Mina is torn between wanting their attention and wanting to find a way to be free. She wonders if they pool their knowledge and resources, can they find a way to break the bonds that hold them? Or will it just put them in more danger?
'I can't deny I want him, whether it's bite-induced lust or pure lust. He's gorgeous and strong and there's a sly intelligence in those dark eyes that draws me despite myself.'
Leave it to Katee Robert to take a vampire romance, add an interesting backstory between the heroes (yes, plural), throw in a reverse harem, and totally make it all work. In other words–as you can tell–Sacrifice was one smoking hot, complex story!
'My feelings for Malachi are a pulse in my blood I can't ignore. It's more than desire, more than lust, even more complicated than something as ridiculous as love.'
Sacrifice might not be every reader's cup of tea. And I start off saying that because you have to be ready for the erotic heat level in Robert's writing as well as the fact that this has somewhat dubious consent to the love scenes. There was no rape involved. Our heroine Mina made up her own mind. It was the aphrodisiac-like effect of the vampires' bites that made it more difficult for her to think rationally whether she wanted Malachi's (or Wolf's or Rylan's) advances. I thought it was a surprising twist that added even more passion to the story, though, the way Robert wrote it.
Even though this was a paranormal romance, it was easy to relate to Mina. She had a rough upbringing, enduring physical abuse at the hands of her father as well as being treated as nothing more than a work slave. That wasn't easy to read about. But it showed what strength Mina had, why she was rather naive, and why she longed for freedom. I commended her for holding her chin high when she was forced to go to Malachi. And I liked that Mina tried to think things through without letting herself panic too much–which I have a feeling is going to help her in upcoming installments.
Malachi was more difficult to read. We only got Mina's POV in this book so we had to guess his intentions at first. I grew to like him a lot, though, as we got to see how protective Malachi was of Mina. Which was swoon-worthy. It was when his friends Wolf and Rylan entered the picture that it got really complicated. And really sexy, truth be told. There were also some revelations about Mina, and why Malachi was stuck in his mansion, that shook things up, leaving this in a cliffhanger that will definitely make you want to read book two as soon as it releases.
A sinful paranormal romance with a mysterious edge, Sacrifice was hot enough to nearly set my Kindle on fire and was definitely interesting enough to make me fly through the pages.
Book Info:

Publication: Published September 24th 2020 | by Trinkets and Tales LLC | Bloodline Vampires #1
All my life, I've wanted nothing more than to escape my father's compound. Half human, half vampire, I have none of the perks and all of the weaknesses. Well, my father's finally found a use for me. He's sent me to Malachi Zion, the last vampire in his family. My role is to play resident blood bank and, should Malachi knock me up, my father gets access to a whole new bloodline to control.
No one asks me what I want.
But the longer I spend with Malachi, the more I realize that he's not the monster I first thought, which makes it harder to resist the heat that flares between us. And then his two friends show up and complicate things exponentially.
As long as we're stuck in this house together, I'm a trap just waiting to be sprung. But if we break free, there's nothing holding these vampires to me…
In gaining the one thing I want more than anything—my freedom—I might just lose everything.
CW: Dubious consent, blood play, breeding, abusive parent (father), cliffhanger