The Silence by Kendra Elliot  is the second book in her Columbia River series. A ruse leads to a major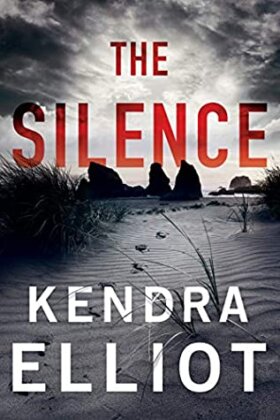 tragedy.
Oregon State Police Detective Mason Callahan and his partner Detective Ray Lusco are called to a grizzly murder scene. A man had been bludgeoned to death in his home. The next door neighbor may have scared the murderer away when she knocked on the back door of Reuben Braswell's house and saw a broken window and lots of blood. During the crime scene investigation a folder was found with pages of anti-police rants and at the very end plans for the federal courthouse and talk about a bomb set for that very afternoon. The alarm went out and many officers were dispatched to clear the courthouse. As it turned out the bomb scare was a ruse to scramble the police for something else…
Detective Callahan returned to Braswell's neighborhood the day after the murder to talk to a neighbor who hadn't been home the day before. Kaden Schroeder mentioned seeing a silver Mustang in Braswell's driveway a couple of times recently. Could that be the murderer's car?
This is a thrilling suspense story. The action is non-stop. Ms. Elliot's pacing is just right. This author sets up the conflict and then methodically writes the storyline for a very satisfying resolution. I loved how characters from previous books were woven into the story. I was especially pleased and quite surprised to see Mercy Kilpatrick play a role in the story.
Book Info:

Publication: August 25th 2020 | Montlake | Columbia River #2
A dead conspiracy theorist. A mass murderer. Two cases collide for Callahan and McLane in a pulse-pounding thriller by Wall Street Journal and Amazon Charts bestselling author Kendra Elliot.
A man is savagely murdered outside Portland, and Detective Mason Callahan finds blood-spatter evidence that tells a troubling story. Files reveal the murder victim, Reuben Braswell, was a radical conspiracist. In his home, investigators find pages of diatribes against law enforcement as well as ties to Mason's fiancée, FBI special agent Ava McLane. The victim was her informant—and had strong reasons to be paranoid.
To Ava, Braswell's rants were those of a wearying and harmless man…until they collide with her investigation into the murders of police officers and finding the connection becomes urgent. Meanwhile, Braswell's brother and Ava's twin sister both disappear, and disturbing acts of sabotage target Ava's personal life.
For Mason and Ava, the brutal crimes and escalating mysteries create a perfect storm for a terrorist conspiracy that becomes dangerously personal—one that has yet to claim its last victim.