In Saint Or Sinner (Bad Things #8) by Cynthia Eden, When people hear that Josephine Saint is looking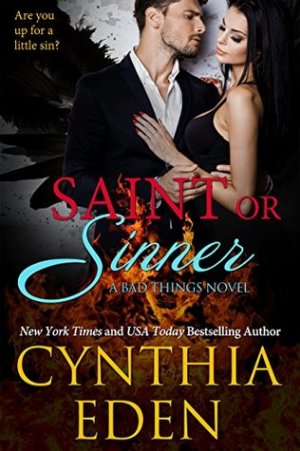 .5 Sfor them, they know the end is near. Because the vampire and highly skilled assassin has never failed on a mission. When she's told her final kill is an angel named Malik who is nearly Fallen, Jo is ready to bring him back "upstairs" and get her well-deserved freedom. But the angel proves to be her match in just about every way imaginable. Including in the romance department. Jo doesn't believe in emotional attachments after a lifetime of killing and being stabbed in the back by so-called friends. Sometimes literally. However, there's something unique about the angel who is falling deeper into darkness. Something that calls to Jo. And she'll have to decide if she can put her trust in Malik without getting either of them killed.
"What kind of business?"
He smiled. A half-smile. A sexy as sin smile. And why did she have such a weakness for the crazy ones?
"The kind of business that involves killing."
"What an odd coincidence." Her tongue slid over her upper lip. "That's my business, too."
Centuries of watching Josephine and not being able to assist her in her battles has done a number on Malik. But now he has the opportunity to speak with her. To touch her beautiful face. And to fight alongside her the way he's always wanted to. It's too bad that he doesn't have more time to enjoy with his vampire, as they seem to be dodging threat after threat from some unknown source. The more details they uncover, the more Malik is worried about the final outcome. It definitely doesn't look like things are in their favor. Although he'll do anything to keep his Josephine from harm. Even if that means letting the darkness envelop him and giving in to becoming truly Fallen. But his fierce vampiress Jo might just have a few tricks up her sleeve to keep them not only together, but to also defeat the evil after them.
'His wings pounded against the air, and he rushed away, taking the vampire he'd always been so desperate to possess. His weakness, his desire…*his*.'
Saint or Sinner was a complicated, wild & crazy paranormal romance with a sumptuous–and highly unique–love match: a vampire assassin and a fallen angel. Sounds exciting, right? And boy was it ever!
'Her prey never got away. Never. Malik wasn't going to be the one who broke her perfect record. He was her ticket to freedom.'
I'm still fairly new(ish) to Cynthia Eden's Bad Things series but I can absolutely see why fans love it. The plots are filled with twists and turns you don't expect. The characters are lifelike and are truly interesting. And the world-building is pretty incredible. The selling point with Saint or Sinner was Josephine Saint, our kickass heroine. Loved. Her. So much. She was tough as nails, sarcastic, uber smart, and even though she was basically a killing machine, she still had a code (of sorts) that she followed to keep from going mad like her father had. Jo fell for Malik while they were hunting down whoever was threatening them without realizing what was happening. And I enjoyed the fact that it took her by surprise, along with her reactions and the way she put his safety above her own, proving how loyal and courageous she could be.
Malik was a pretty complex character as well. All grumbly, growly and captivated by "his Josephine". Neither he nor she had led an easy life, but it was clear how devoted he had become to her over the centuries of keeping a watchful eye on her. I *adored* the scene in the beginning when Malik actually reached out and touched Jo's face for the first time; the awe and wonder he experienced. Makes a reader girl want to swoon. (lol) And that sense of wonder stuck with Malik as he grew closer and closer to Jo all while trying not to succumb to the darkness taking him over. As with the majority of Cynthia Eden's books, there were some great action scenes that showed both Jo and Malik's powers. They were surrounded by beings who all seemed to be bad or evil to varying degrees, so it was quite a feat for them to decide who to trust and who to pursue.
I'm always on the lookout for a well-written, engrossing paranormal and Saint or Sinner definitely hit the mark. Our hero and heroine tore up the pages with their all-encompassing, sexy as hell romance, while the storyline itself grabbed my attention and never once let go.
Book Info:

Publication: July 24th 2018 | Hocus Pocus Publishing, Inc. | Bad Things #8
Beware of Beauty…because she's got the heart of a real beast.
Smart people—and monsters who know the score—fear Josephine Saint. The sexy vampire might appear to be a sensual temptation, but she's a cold-blooded assassin. Mercy? Jo doesn't know the meaning of the word. With each successful hunt, Jo slides one step closer to getting the promised prize that she's coveted—her freedom. Long ago, Josephine made a deal with the devil, and now, the jerk is collecting on the final payment due him.
Find the angel…before he rips the world apart.
Her latest target is Malik, an angel who has gone dark. The fool fell and crashed hard to earth, and now he's indulging in every sin he can find. And, bonus, the guy has every predator in the land closing in on him because angel wings are highly prized on the black magic market. It's Jo's job to find Malik and bring his sexy angel ass back upstairs except…
The angel is already changing…into something new and something very, very deadly.
Malik has his own mission, and it doesn't involve being dragged back to heaven. He's ready to lose his wings, ready to pay any price, if it means he can right a wrong from his past. He never expected for Jo to hunt him, and he knows that he won't be able to control himself when she's near. Because Jo—fierce vampire, deadly assassin—she's his charge. He's been watching over her for centuries. Watching her, and wanting her. Now that he's earthbound, Malik can finally make the vamp his.
Can a vamp save the world? Maybe…if she can claim a fallen angel's heart.
With every moment that Malik spends on earth, the darkness within him grows. When angels fall, they change. They become something new—and a firestorm is about to erupt from Malik. When the fire erupts, it will destroy everything and everyone in its path…His only link to sanity is Jo, and if he loses her…Malik may lose his very soul.
The hellfire is coming, and it will rage. SAINT OR SINNER…what will you be?