Saint's Passage by Elizabeth Hunter is the first book in the Elemental Covenant series. Carwyn, an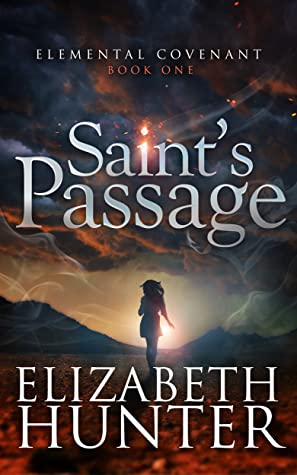 earth vampire, and his wife, Brigid, a fire vampire, have ventured from Dublin to the United States, where they find themselves enlisted to help find a missing teenager name Lupe. It becomes clear that Lupe got more than she bargained for as she had tried to do what she thought was right. Now the couple not only have to find Lupe before she finds herself in more danger, but they have to find a way to rescue the children Lupe was working to help as well.
Brigid has every intention of returning to her job in Dublin after they solve the case, but Carwyn wants her to consider doing something else. Something like the good they're trying to do by attempting to rescue the children. But will Brigid be willing the consider a career change?
Carwyn is a much older vampire than Brigid, yet they complement each other well. He has an easy-going attitude while Brigid isn't afraid to push people's buttons and, on occasion, set things on fire. Their banter is witty and I really enjoyed them as a couple.
I was drawn into the mystery of what happened to Lupe, and there was a twist to the story that I didn't see coming. I found it interesting that the couple recruited not just other vampires, but also humans, to get to the bottom of the mystery.
I will say I felt like Brigid and Carwyn had met some of the other vampire characters before. After looking into it, I found out that Brigid and Carwyn are characters introduced in the author's Elemental World series. While I felt the book worked well overall as a standalone, if you're like me and haven't read the other series, you will feel like you're missing some background about the relationships between some of the characters. It wasn't enough to take away from my overall enjoyment of the story though.
This was my first time reading a book by this author, and I really enjoyed it. The author has created a fast-paced story filled with plenty of action, mystery, and entertaining characters that will draw readers in from the first page to the last. I recommend this book for readers who enjoy stories about the paranormal, especially vampires, mixed in with romance, mystery, and suspense.
Book Info:

Publication: March 23, 2021 | Recurve Press, LLC | Elemental Covenant #1
Everyone said that Lupe Martínez was a good kid. She listened to her mom, she helped at the homeless shelter, she got good grades, and she had a bright future ahead of her.
Until she disappeared.
Now no one knows what to think. The police are sure she ran away; her mother is sure she didn't. Days have passed and no one knows what to do until her family priest suggests they call in an old friend.
A very old friend.
Carwyn ap Bryn and Brigid Connor are two elemental vampires finding the lost, righting wrongs, and searching for meaning in the endless stretch of immortality they've been granted.
And trying not to blow things up, but that might be more aspirational.