The Last Carolina Sister by Michelle Major  is the third book in her Magnolia Sisters series. This is a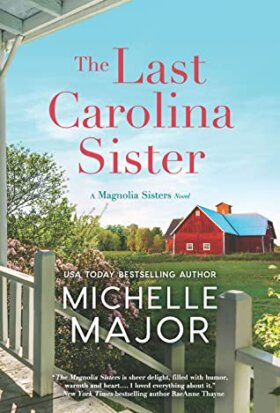 truly heartwarming story.
Meredith Ventner grew up disliking, yet envying the rich girl in town, Carrie Reed. Carrie's father Niall Reed was a famous artist who put their little town of Magnolia, North Carolina on the map. Upon Niall's death and the reading of his will Meredith discovered that Niall Reed was her birth father and left her the property in his will. Meredith also discovered that in addition to having Carrie Reed as a half-sister, she also had another half-sister Avery Keller, who also had no idea Niall Reed was her birth father. Meredith soon came to respect and love her two new sisters. Together they plan to revitalize Magnolia along with supporting the animal rescue farm, Furhaven that Meredith established.
But Niall left his estate in poor shape and taxes will soon be due on the Furhaven property. Meredith hopes that one of the grant applications she filled out would come through. In the meantime a handsome doctor, Ryan Sorensen moved in next door. They first met when Meredith went to his cottage looking for help for a man injured on her property. It was raining and the road was washed out so an ambulance wouldn't be able to get through to her farm. Meredith basically forced Ryan to come to this injured person's aid. What a way to meet… Ryan is only in Magnolia temporarily. But the attraction is strong. Will he end up staying in Magnolia?
Dr. Ryan Sorensen was shot in the leg when a gang confrontation erupted in his ER in the DC hospital where he worked. The injury was bad enough but what was just as devastating was the death of his friend that night. Ryan's chief of staff at the hospital, Dr. David Parten offered Ryan the use of his vacation cottage in Magnolia, NC while Ryan healed. At first Ryan was going stir-crazy there. But then the crazy woman from next door came and banged on his door insisting he go with her right away to aid an injured person at her rescue farm. She wouldn't take "no" for an answer and practically dragged him out his door and into her truck. What Ryan didn't realize at the time was that this woman, Meredith Ventner was going to change his life. First Ryan found emotional healing helping Meredith with her rescue animals and then more emotional healing when he fell in love with Meredith.
Both main characters have so much baggage to overcome. Due to their pasts they both have built strong, high walls around their hearts and immersed themselves in suppressed feelings. So a very insecure Meredith and a closed-off and a little bit crusty Ryan find each other, find trust in each other and find love for each other. I liked the emotional growth of these characters in this story. I was heavily invested in them finding their HEA and that's a very important element in my enjoyment of a book. I like Ms. Major's writing style and enjoyed all three books in this series. Fortunately this author isn't done with Magnolia, NC even though this is the last book in the Magnolia Sisters series. We get to visit Magnolia again later this year when Michelle Majors releases the first book in her Carolina Girls series, Wildflower Season.

Book Info:

Publication: March 30th 2021 | HQN | Magnolia Sisters #3
In Magnolia, North Carolina, love might be waiting right next door…
Meredith Ventner knows a wounded creature when she sees one. Though her temporary new neighbor may be—on the surface at least—a successful, drop-dead gorgeous doctor, she recognizes the deep hurt Ryan Sorensen is carrying, and it's catnip to her soul. But even though Meredith is the youngest, scrappiest and single-est of Magnolia's most famous sisters, she's committed to expanding the animal shelter on her newly inherited farm. She can't waste her energy on a man who's only passing through town.
Ryan is hoping that after a month of small-town living he'll be healed enough to return to his busy ER. His injured leg isn't half as painful as his guilt from the tragedy he's trying to forget. Yet somehow, helping feisty, tenderhearted Meredith care for her menagerie is making him question his career-first priorities. Here in this quirky small town another future is coming into view, but can he change his life, and open his heart, to claim it?