In Santa, Bring My Baby Back by Cheryl Harper, Grace Andersen spent the last little bit of money she had to buy her dream wedding dress and book a room at the Rock'n'Rolla Hotel in Memphis. So what if she's not madly in love with Tommy Joe? It's time to settle down. Unfortunately her fiance gets a case of cold feet, leaving Grace at the altar with no one to turn to except the dangerously handsome man who would have officiated her wedding. She feels an instant connection between them and hopes it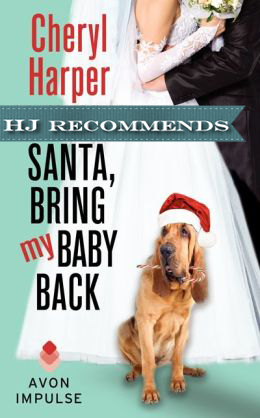 will help her land a job at the hotel. But Charlie doesn't seem to want to help Grace or admit the spark of interest he has for her. The more they spend time together at work, she realizes how very different they are but how well they balance each other out. Could she be falling for someone who lives life by a schedule and learn to give up her free-spirited ways?
'And it scared her to death to know that wherever her path took her, she might measure her future against the memory of Charlie. It scared her more to think of never having him in the first place.'
Charlie McMinn likes to have control of every situation whenever possible. But being back at the Rock'n'Rolla Hotel means being surrounded by chaos most of the time. He can't wait to get back to his quiet house back in the woods. Until he meets Grace. Even upset at being left at the altar by her fiance, she is the most beautiful woman he's ever laid eyes on. His recent decision to find a wife replays in his mind. However, Grace is the polar opposite of what Charlie thinks he is looking for. Somehow that doesn't sound so bad to him now, so he decides to see where his attraction to the lovely woman might take him.
'He hoped her new plan, whatever it was, meant checking out of the hotel immediately. Beautiful Grace Andersen might have the ability to wreck his plans along with his logic if she stayed.'
Santa, Bring My Baby Back is my second time visiting the Rock'n'Rolla Hotel series and I got just as much of a kick out of it as I did when I read Can't Help Falling In Love.
Southern charm and Elvis ooze out of this story and it makes for a very entertaining time. All of the employees at the hotel make an appearance, especially Willodean and Misty, of course, so we get to keep tabs on what has been happening in their lives. And a lot has been going on! Willodean is up to her matchmaking again and still keeps her eyes open to help out any lost souls as is her usual way. I enjoyed how this was set at Christmas and it brought another element of joy and thoughtfulness to the story as well.
Grace and Charlie's story can basically be boiled down to: opposites attract. They couldn't be more different. Grace is always on the move from place to place, trying different jobs and never settling down, much to her family's dismay. Charlie keeps a specific daily schedule and analyzes everything before making a decision. But when Grace and Charlie are together, things get steamy in a hurry. I like it when these types of characters are thrown together in any given situation because it's really true how well they can balance each other in life. It seemed realistic as well that they both had a difficult time explaining their feelings and seemed to push each other away accidentally. It wasn't a "perfect" story, showing their flaws, which I appreciate very much.
I really hope you have time this Holiday Season to read Cheryl Harper's latest in the Rock'n'Rolla series. It's a story with a lot of heart, some sexy fun, Elvis, and lots of new beginnings.
Book Info:

HJ Recommends
Published December 17th 2013 by Avon Impulse
A bride abandoned at the altar . . . just in time for Christmas? 'Tis the season for second chances at Cheryl Harper's Elvis-themed Rock'n'Rolla Hotel.
After trying and failing at acting, modeling, dog grooming, and a dozen other jobs, Grace Andersen thought for sure she'd nail marrying a rich man. But dumped in a hotel chapel and strapped for cash, Grace needs a miracle—and a job.
If it were up to Charlie McMinn, Grace would be a married lady by now. Officiating weddings in gold lamé and a rock star pompadour may not have been his idea of getting into the holiday spirit, but with a gorgeous bride asking for his help, Charlie doesn't mind sticking around his mother's hotel a few more days. Especially if it means getting Grace settled …
Grace isn't sure what to think of sexy, rugged Charlie, except that she can't deny the attraction between them, or how good it feels to finally fit in somewhere. Is she ready to give a certain place—and a certain someone—a real chance? Or will she abandon a true Christmas miracle?