Public Relations by Tibby Armstrong is an entertaining, original read.
Self-made billionaire Peter Wells is so afraid of commitment and a palimony suit, he pays for sex. He typically hires a young woman for an evening, a week, or a month; until he tires of her services and then moves on to the next one. Unbeknownst to him, a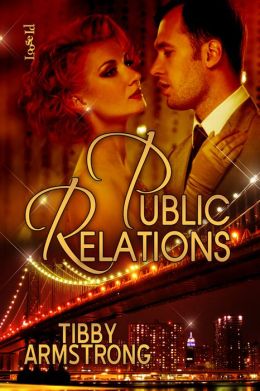 journalist is lurking around one of his charity events and witnesses him satisfying one of his "employees" and paying her for her services. The next day, Peter's squeaky clean image is no longer. After finding out which newspaper originated the story, Peter purchases the publication in order to seek revenge.
Gossip journalist and former Londoner Georgia Whitcomb royally screwed herself when her new boss, playboy Peter Wells, informs her and her colleagues that he will close their two-bit paper within the very near future, unless the writer that disclosed his illicitness steps forward. Luckily, no one blows Georgia's cover and her best friend and former boss, Syd, introduces Georgia as the former owner's personal assistant. Naturally, Georgia ends up working for Peter directly.
As Peter and Georgia get to know each other, they fall in lust, which shortly thereafter evolves into love. Unfortunately for Georgia, she is finding it extremely difficult to divulge her true identity to Peter. She has never been in love before and her original misgivings about Peter, which prompted her to write the article in the first place, are no longer important.
Ms. Armstrong is a master at penning hot, steamy (the shower scene is literally steamy), sex scenes. Peter's an alpha in both the boardroom and the bedroom. While Georgia is strong and independent, she enjoys relinquishing control in the bedroom, which makes her a perfect sparring partner for Peter.
I enjoyed the story, even though I found some of it to be somewhat slow moving and repetitive. Unfortunately, it took me a long time to feel the love connection between Peter and Georgia. With that said, the last fifty pages or so are emotional, heart-wrenching and real. In addition, dinner with Peter's family is hilarious and I was laughing out-loud on more than one occasion. Not a bad read overall.
Book Info:

Published October 22nd 2013 by Loose Id
Public relations, private complications–it's all about to hit the front page.
Billionaire playboy Peter Wells pays for sex. His girlfriend-for-hire arrangements are tidy, simple, and not apt to land him with a palimony suit. When an anonymous gossip columnist reveals his predilections for escorts and control Peter vows revenge.
Georgia Whitcomb is a lot of things–incognito journalist, aristocrat, and best friend to a sleep deprived and slightly neurotic editor–but she isn't really girlfriend material. She's old money pretending to be no money, and has her independence to maintain.
When the paper won't name its source, Peter buys the business and dubs Georgia his personal assistant. Georgia is mortified to learn exactly what type of person Peter is–generous, compassionate, demanding. Peter is unprepared for the deep passion and commitment Georgia inspires from him.
As Peter's past comes to light, the walls around Georgia's heart erode and her lies begin to unravel. In the end, there seems to be no way to reveal her true self without destroying their fragile romance. With Peter's investigation peeling back the layers of her deception, only one thing is certain: the fallout from falling in love will be front page news.