In Savage Burn (Savage Trilogy #2) by Lisa Renee Jones, Leaving Candace behind eight years ago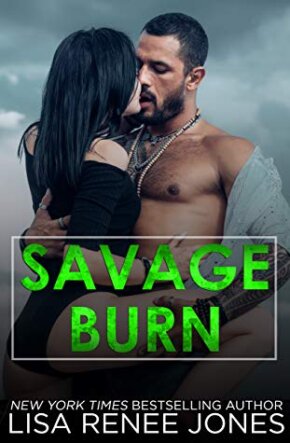 was one of the toughest things Rick Savage has ever had to do. But it was for her own good. Because once he became part of a black ops group and started racking up enemies, he knew any one of them could target his woman. And Savage may be a killer for his government, but there's no way he'd willingly let Candace come to harm. That's why when he's drawn to Texas once again years later to keep her and her father from falling into the hands of his enemies, Savage will fight to the death for his Candace. And maybe, just maybe, they'll get the chance to rekindle their relationship and finally get that happy ending they once dreamed of.
"You're mine now, even if you don't know it yet."
"I never stopped being yours, Rick Savage. *You* just don't know it yet."
"You can prove that to me later. Naked."
Candace has just barely been getting by over the years after Rick left without a trace. Or a goodbye. Raised in the military life, she knew she might never see him again, and if she did, he might not be the same sexy, hilarious guy she loved. But Candace never dreamed that just when she was trying to move forward with her life by getting involved with political candidate Gabriel, Rick would show up again. Or that he would become her savior when everything gets turned upside down by unknown forces out to harm her and her father. Candace is willing to let Rick and his team from Walker Security help her. But is she willing to put her heart on the line one more time when he might walk away when it's all said and done?
'No matter how much I love him, my love will never be enough to overcome the torment inside this man. And yet, I think I'm the only chance he has to survive that torment.'
Savage Burn started with an explosive bang and left off with a mother of a cliffhanger that will have fans gasping and counting down the days until the finale, Savage Love, gets released.
'It's in the air, a whisper that promises that the ground we walk on now might be clean and dry, but soon, very soon, we may well be wading through a river of blood.'
Oh, Lisa Renee Jones. Boy do you know the exact point where to leave a story for optimal shock value. It's a good thing your readers know you'll make good with a fantastic conclusion to this trilogy. (lol) No, but seriously, this is definitely one of those times that you'll want to not only read these books in sequential order where the next one picks up where the previous left off. But you'll also want to wait until the full trilogy is released if you don't like cliffhangers, because holy cow! I don't think it could have ended on a more pivotal moment.
Two books into Rick Savage's story and I'm still loving him. I may even love him more now than I did from the previous Walker Security books because now we've seen why he has a sarcastic, flippant attitude and isn't afraid of the baddest, most dangerous jobs Walker offers. In a nutshell, it's Candace. Having to leave her behind, along with all the horrors that Savage has seen and done, was why he put himself in no-win situations. He thought he had nothing to lose because he'd already lost the most important thing in his life…Candace. But I love how LRJ slowly–oh so slowly–helps Savage realize that maybe letting go of his woman wasn't protecting her, but basically punishing himself instead.
Candace was as wonderful and kickass as she was in the first installment. I adore her courage and how she stood up to Savage.(And Asher, Adam, even Gabriel.) She used her upbringing as a military brat to keep up with the Walker team, all without losing her focus on finding a way out of her and Rick's situation–and Candace also kept at him to prove they needed each other in their lives. It did seem like the issue of how Rick walked away and had the potential to do so again was rehashed quite a bit. But overall it felt like with so much going on, Candace and Rick never really had a chance to sit down and have a long talk about their past or their future. So I have a feeling that book three will see that lingering argument/issue come to a close.
A web of lies and deceit, double-dealings, suspenseful action scenes, and even a second chance at love, Savage Burn had it all. Lisa Renee Jones created a fast-moving plot with characters I think readers will have a tough time letting go of. Highly recommended.
Book Info:

Publication: February 18th 2020 | Julie Patra Publishing | Savage Trilogy #2
The second book in the Savage Trilogy…
My name is Rick Savage but they call me Savage for a reason. But savage that I am, there is only one woman who can tame the beast in me, one woman who sees the real man. I loved Candace. I lost Candace. Now my enemies have targeted her. For this, they will not survive. I'm back home to save her and win her back, no matter what the cost.