Mountain Hostage by Hope White is part of the K-9 Mountain Guardian series. This storyline is well-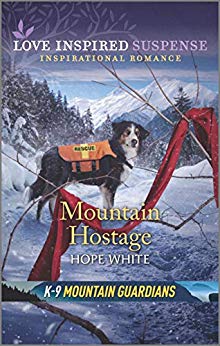 written and leads the reader into mystery, suspense and lots of action. One definitely needs to keep turning the pages.
Zoe Pratt is in Mt. Stevens, Washington visiting her best friend Shannon. All she wants is to have a good visit with Shannon and escape from her problems at home after the end of her relationship with her long-term boyfriend. This is to be a time of peace and renewal. Shannon talks Zoe into a winter hike in the mountains. She insists it will be invigorating, yet also will bring a sense of peace and serenity in the midst of the beauty God created. What it brought instead was terror and pain. Shannon is kidnapped and Zoe is pushed, falls and lands on a ledge. Fortunately some hikers heard her scream and saw her falling. Search and Rescue is called in.
Jack Monroe and his K-9 partner Romeo are considered to be top notch. Jack's rescue team hurries to Zoe's location and Jack manages to reach Zoe and tend to her injuries before she is brought down off the mountain to the hospital. Search parties are sent out to look for Shannon. When weather forces the search parties to cut the search short Jack returns to the hospital to check on Zoe. Why does he feel a connection to her? He is a loner. This is not normal for him.
The search for Shannon continues when the weather clears but the police now have doubts that she was really kidnapped. They now suspect Shannon is a drug dealer. Zoe never loses faith in her best friend though. She knows her too well to believe it. Now Zoe finds herself in much danger. Jack is determined to be there to keep Zoe safe.
Jack and Zoe face many deadly attacks and I liked how Jack stuck with Zoe no matter what. Zoe and Jack are an unlikely couple. Guess opposites do attract.
Book Info:

Publication: February 1st 2020 | Love Inspired Suspense | K-9 Mountain Guardians #2
They're tracking a kidnapper
But will they be the next targets?
After an ambush during a mountain hike, Zoe Pratt ends up shoved off the mountain and her friend kidnapped. Enigmatic search and rescue volunteer Jack Monroe tracks Zoe with the help of his K-9 partner, Romeo, but as the only witness to the attack, she's far from safe. With Jack's help, can she find her friend and take down her would-be killer?
K-9 Mountain Guardians