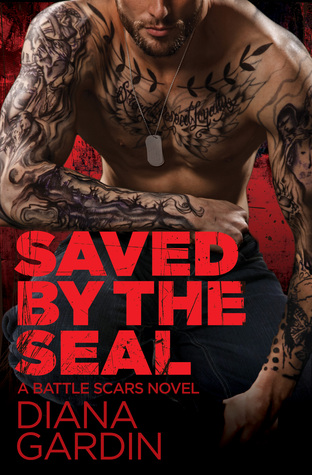 In Saved by the SEAL by Diana Gardin, Grisham Abbot saves Greta Owen from drowning after she falls off her surfboard and hits her head, knocking her unconscious. When she comes to, Greta realizes that the person who saved her is the man she's had a crush on–only he had a crush on her best friend. Grisham begins to see Greta as something more than a friend, and both struggle to figure out if a relationship with one another is a good idea.
Greta has trust issues with men. All her life, her father was pretty much absent. He provided for his ex-wife and children financially, but he wasn't there physically or emotionally; he buried himself in his work instead. Because of this, Greta worries about being with a man who is completely devoted to his job. When her father offers Grisham a job with his security company, Greta becomes terrified that he'll choose the job over her, much like her father did.
Grisham has his own issues. He returned from the Navy after an IED cost him part of his leg. As a result, he feels like he's not whole and can't be enough for Greta. She tries to convince him otherwise. The following is from a scene where Greta sees Grisham's leg without the prosthetic for the first time.
When I feel the warmth of Greta's hand on my leg, every single muscle in my body tenses. I'm not expecting her to touch me…there. My gaze slides towards hers, and her expression is fiercely burning into mine.
"You're still you, Grisham. You're still the same guy I met and crushed on two years ago. You just have a bit more of a story to tell. That's all."
While Grisham is trying to figure out what to do with his life after they Navy, the pair also has to figure out who is stalking Greta. While I figured out pretty quickly who the stalker was, it did add a bit of suspense to the story.
Saved by the Seal is a story about healing, love, and forgiveness. I would recommend it for anyone that enjoys books about military heroes.
Book Info:

March 8, 2016 | Forever Yours | Battle Scars #2
When he sees a woman drowning, Grisham Abbot immediately leaps into action. The Navy SEAL forgets his training, his past, and the explosion that forever scarred his body and his mind. He can only remember what he was born to do. But saving Greta Owen is a complication Grisham is definitely not ready for. She's stunning and gorgeous—like sunlight after months of darkness. Yep, Grisham is so, so screwed.
Greta knows that the smart thing to do would be to run from Grisham. He's a wounded warrior, and his head is a big-time mess. The problem is that Greta wants to make him her mess. One kiss and she's completely in over her head. And if this SEAL risked himself to save her, then she must find a way to bring him back to life . . .