In Saving a Legend (Kavanagh Legends #2) by Sarah Robinson, Kieran Kavanagh is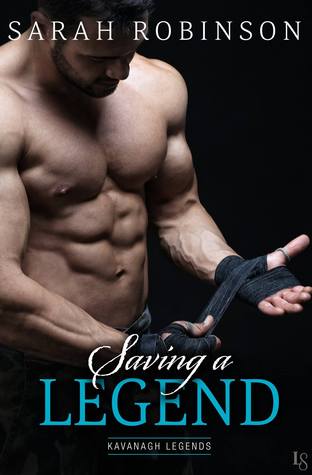 finally glad to be home after two years in prison. Resolved to prove his recklessness was a period of his life he wishes he could erase, Kieran is determined to follow his parole terms by helping at-risk kids. However, he never anticipated that his attraction to florist Fiona Doherty may be his undoing, especially since he's coming to care not only for her but for her little sister as well; a young girl that needs someone else looking out for her just as much as her sister does.
"You seem to have all the answers, so it sounds like we're the perfect match."
She rolled her eyes at him. "Is everything from you always a pickup line?"
"Depends on who I'm talking to."
"Everything you say to me is a pickup line."
"That's because I definitely want to pick you up."
Having been absolutely charmed by the Kavanagh men in the first book of this series (Breaking a Legend), I have been eagerly anticipating the moment I got to dive into this story and start reading, and I've got to say that it does not disappoint. Immediately, I was drawn into this fast-paced story by the prologue, as Kieran lands himself in big trouble and ends up in prison. He doesn't have an easy time in there, and once he's released, it's not easy for him either. Because his older brother and father are disappointed with him for what he did. Will they be ever be able to forgive him?
The dialogue was a nice blend of playful and intense, as Kieran adjusts to life on the outside after being in prison for two years. The terms he needs to follow for his parole are good for him since he's good with kids, and would do anything to set them on the right path. He has some good ideas with what he teaches the kids, but it's his growing friendship with Fiona's sister, Shea, that made me smile. Shea is autistic, so she doesn't interact with people all that much. Yet, with Kieran and his family she does. It's really sweet the way various members of the Kavanagh family dote on her.
Both characters were compelling, and their back stories made up the intense dialogue. Kieran isn't the only one that has had a horrible encounter with the cops. But while Kieran is doing his best to move on from his troubled past, Fiona is still haunted by hers. Can Kieran help her overcome it? Can she finally see that there wasn't anything she could have done differently?
"Then why'd you let me pay for you? Sounds like a date to me." He smirked, glancing sideways at her.
"I said not to!"
"Oh, yeah, you really fought me on that," he teased, his smile as wide as ever. "That whole let-me-dig-around-in-my-purse-just-long-enough-to-look-like-I'm-going-to-pay scheme. I'm onto your games, flower girl."
Fiona is strong, brave, and determined not to fall under Kieran's spell. However, he makes it very difficult, especially when a situation arises and she finds the hero and his family are more than willing to help her, although she doesn't like to rely on other people. While Kieran, he's kind, caring, confident and determined to show Fiona that there's room in her life for a relationship, even though a lot of her time goes towards caring for her little sister. He's also determined to repair his relationship with the members of his family that are furious at him for what he did to land himself in jail. Believing he should have known better than to break the rules when it came to MMA fighting.
This couple has some seriously intense chemistry from the moment they meet, and I liked how charming Kieran was. The nickname he gives Fiona suits her because of her occupation, and I enjoyed how he used it throughout this book. The sexual tension between Kieran and Fiona increases every time they're together until eventually it explodes onto the pages in hot sex scenes. Fiona is adamant that she can't have a relationship because of what she did in the past, but once the truth comes out it sets her free to be with Kieran.
Overall, Ms. Robinson has penned another incredible novel for this series that will no doubt leave female romance readers wanting more of the hot and sexy Kavanagh men. The ending wrapped this story up nicely, as Kieran surprises Fiona and proves how much he loves her with the present he gives her. I would highly recommend Saving a Legend by Sarah Robinson, especially if you enjoy MMA heroes or a couple that need each other to overcome their troubled pasts.
Book Info:

Publication: June 14th, 2016 | Loveswept | Kavanagh Legends #2
His family's gym has produced a roster of mixed martial arts legends, but so far Kieran Kavanagh hasn't followed in their footsteps. After a brawl lands him in jail, Kieran is assigned to work at a center for at-risk youth. Though given a second chance, Kieran's simply going through the motions—until he meets one very special kid, Shea Doherty, and falls hard for her very beautiful, very grown-up big sister, Fiona. The trouble is, Kieran's best opening moves are getting him nowhere fast.
Fiona Doherty has too many responsibilities to fool around, especially now that she has custody of Shea. Sure, she'd love to find a devoted partner. But she won't jeopardize her sister's happiness—or risk revealing her tortured past—on a love-'em-and-leave-'em type of guy like Kieran . . . so it's up to him to prove her wrong. As Fiona spends more time with Kieran, she starts to see a softer side of the reckless warrior. Now she must admit that when it comes to the possibility of real love, well . . . there's a fighting chance.