Saving Mr. Perfect by Tamara Morgan: Thanks to her FBI husband, Penelope Blue is retired from her jewel thief ways. But now, she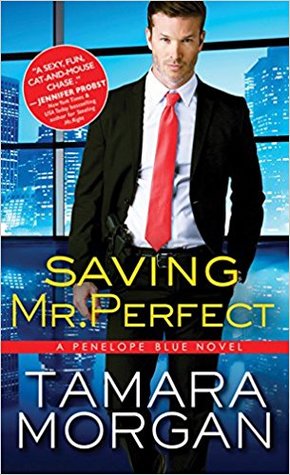 has no idea what to do with herself. At least, she hasn't found anything yet that captures her interest as much as planning out a heist.
But when it looks like the FBI has a copycat thief in their sights, one who works a lot like Penelope did, and she has to find out who it is before she or her friends get in trouble.
In her view, one she shares with Grant, it must be his new boss. The fast up and coming agent who can't seem to do the job right yet maintains a wealthy lifestyle and shot up through the ranks far too quickly.
"Can't I be happy to see you?"
"You could be, but you're not."
I fake a pout. "How can you tell?"
"For starters? Not only have you never called me 'my sweet' anything before, but your skin is flushed, and your pupils are dilated. What are you up to, Penelope Blue?"
I don't get why there was a sequel for this romance. I'll admit, I don't remember how the first one ended, but I know it wasn't a cliffhanger and Penelope and Grant were happily together, making this story feel completely unnecessary. That said, albeit a bit bored because their love stays strong and I never actually worry about their relationship, it was a fun story.
I love Penelope and Grant, how they interact and their individual characters. I also loved getting Grant's point of view in this story and seeing his total and absolute devotion to Penelope. It was sweet. There is a new character in this sequel, another FBI agent, and he has a whole big part, one which I'm still unsure whether I like or not. Again, I'm a bit annoyed by it because it's an unnecessary addition. It doesn't add anything except shock value,
What I definitely liked about Saving Mr. Perfect was the union between pulling heists and the FBI. There was some good crossover happening there which I couldn't help but appreciate. I recommend this story if you want to remain in the Penelope Blue world, and it definitely needs to be read as a sequel.

Book Info:

Publication: August 1, 2017 | Sourcebooks Casablanca | Penelope Blue #2
I'm a wanted jewel thief.
He's FBI.
What's that saying? Keep your friends close…and your husband closer.
Being a retired jewel thief certainly has its perks.
1. Oh, wait.
2. No it doesn't.
Without the thrill of the chase, life's been pretty dull. I garden, I drive my gorgeous husband up the wall, and I watch as my old world slowly slips away. But what's that old saying? When one thief closes the door…a copycat jimmies open a window.
And now all fingers at the FBI are pointed at me.
Set up to take the fall for thefts worth millions, I have no choice but to strap on my heels and help my FBI agent husband track the thief. Grant might not think he needs a partner, but this is one case only a true professional can solve. Besides, I've got to know who's been taking my bad name in vain.
Let's just hope curiosity doesn't kill the cat burglar.