Saving the Single Mom's Heart by Allie Kincheloe is a book that took me by surprise. When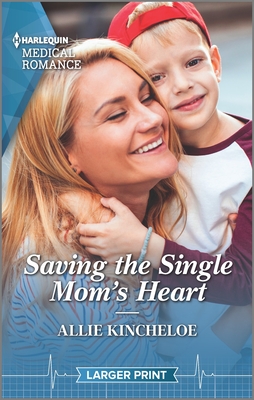 Jessamine "Jess" Daniels' car dies in the middle of the traffic, EMT Beckett Wilder comes to her rescue. Instantly, sparks between them fly as he helps her and her son, Mason, to get home safely. Two days later, Jess founds out that Beckett's family is going to make an important donation to the hospital where she works. As the Director of the Emergency Department, she needs to do a very good proposal to get the funds to her department. As they try to have a good balance between Emergency supplies and technology and more ambulances and EMTs, their opinions clashes, not to mention the fact that they're fighting against the growing attraction surrounding them. Then, a tornado hits town, and everything changes in just 24 hours…
While trying to help people during the emergency, both Jess and Beckett got involved to each other, even though they know it could end badly. Would they overcome the obstacles to be together?
After things went bad with little Mason's father, Jess sworn off men like her ex—rich, spoiled men. Her only priority is her son. Beckett's sister died on a car accident and that's one of the reasons he left town—too many sad memories there. He needed to become an EMT on his terms. His parents have a lot of expectations with him, especially since he became their only heir. Beckett doesn't care about tailored suits or ties, he only wants to grow a career as an EMT without the recognition that comes from a very wealthy name. Also, he's in town for only six months; his job and his life is in Lexington. They didn't want commitments…but their bond gets stronger with each time they spend together.
"You're going to the parking garage, not to war," Jess grumbled.

He laughed as he walked around the truck. "Falling in love is the biggest war there is."
With everything against them, Beckett and Jess found their paths to each other's hearts in an organic way that surprises both. With a lot of chemistry and a deep connection, their romance flows naturally, without corny moments and unwanted melodramas.
In a story where involves the town's community, we have lots of secondary characters interacting with the main ones. From first responders to Beckett's parents, they all make the story a good one. But the one who captures hearts is little Mason. That little Matchmaker is out of this world!!
What I liked most about this book is that three quarters of it are centered on the 24 hours that last before, during and after the tornado, and its reading didn't gets boring. This is a masterfully developed story: well balanced, with strong dialogues and funny comments. This is my first book from Ms. Kincheloe and it won't be the last. Her sassy writing captured me from the first page and I didn't let down the book until I finished it.
Book Info:

Publication: June 28, 2022 | Harlequin Medical Romance |
Could the arrival of a new EMT be the answer to her broken heart? Find out what happens in Allie Kincheloe's latest Harlequin Medical Romance.
Can he give her the happy-ever-after…
…she's stopped herself dreaming of?
Seven years ago, nurse Jess was pregnant and abandoned by her son's father. Ever since, it's been Jess's little family against the world! So the last thing the single mom needs is for the arrival of handsome emergency medical technician Beckett to throw her finally well-ordered life into chaos. When a storm arrives, Jess and Beckett must fight to save their town. But can their intense connection also save her broken heart?
From Harlequin Medical: Life and love in the world of modern medicine.