In Storm Echo (Psy-Changeling Trinity #6) by Nalini Singh, Ivan Mercant was brought up in a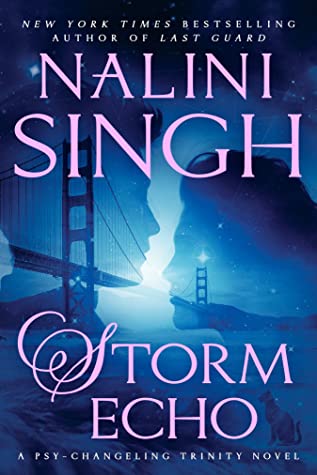 Psy family who gathers information on everyone and everything. Some might call them spies. But they have always lived by a code to take care of the ones they hold dear. That's why Ivan is very careful to keep the monster in his mind caged up–so it can't harm his family or anyone around him. But as he finds that control slowly slipping, and in need of medical help, of course that's when he comes face to face with an exquisite woman he never dreamed would give him the time of day.
"I'm ready."
The woman with the healer's hands raised an eyebrow. "Psy? Thought so. Or you could've been a grumpy wolf, I suppose. They like to snarl a lot."
"I. Am. Not. Grumpy."
A lithe shrug. "Okay, cutie pie. Now think happy thoughts."
Ivan treasures each stolen moment he has with vivacious changeling Soleil Bijoux Garcia. But all too soon they become separated after a terrible tragedy befalls her people, harming Lei as well. After a year of searching for her, Ivan has all but given up. When he once again sees her beautiful face, this time in San Francisco, he's fairly devastated to find she doesn't remember him. And unfortunately it's at the same time as the PsyNet suddenly begins to crumble, sending Ivan into a dark place he was hoping to avoid.
"You deserve joy, Ivan. Hold on to her, on to the spark of joy inside your heart."
As Lei slowly begins to recall snippets of who Ivan is to her, both of their lives are changing yet again. The connection they've formed helps them to remain linked as they each must fight their own personal battles–with Lei's being tracking down the changeling alpha who she believes killed her people, Lucas Hunter. But as she and Ivan unravel the strands of their past and everything that has recently happened, it becomes apparent that things are not as they seem to be. And that gives Lei hope that she and her gorgeous Psy might just have a chance together after all.
"I've never had many people who were mine, Ivan. I don't let go of those who are. And you're mine. You know it and I know it. It's a wild song between us."
A thrilling new installment in Nalini Singh's Psy-Changeling Trinity, Storm Echo pulled at my heartstrings as two beings with horrific backgrounds bonded together amid the continuing PsyNet crisis while shocking revelations rattled their entire world.
'A Psy on a news show had once described the PsyNet as an endless black sea filled with stars. Today, the stars had screamed as they fell into an abyss. It was a horrifying image.'
Trigger warning: View Spoiler »Drug use/addiction, child abuse & neglect, murder. « Hide Spoiler
Nalini Singh's intricate storytelling is beyond compare. I'm a fan of any genre she touches but there is something about her Psy-Changeling series that resonates with me deeply. The way Singh describes pack life and the intense bonds each member has–with each other and with their alpha–it's simply…everything. And while Storm Echo explored the latest explosive problems in the PsyNet (and ChaosNet) as well as some extraordinary info about The Architect and the Scarab Queen, to me, this was about Ivan and Soleil recognizing their own worth and finding their true place in life.
Family and pack were a huge part of this story. Which of course meant that we revisited many beloved characters along the way–including a lot of time with the DarkRiver leopards. (Yay!!) I'm still struck every time I read about the various packs, how interwoven their lives are and just how much love there is between them. That inclusiveness and protection was something Soleil was desperately missing in her life. Particularly since she was a healer. I loved her compassionate nature but it was when she was playful and a little sassy with Ivan that really made me smile.
Poor Ivan didn't know what hit him when Soleil entered his world. It was the best thing for the seemingly cold Psy, though. The moments we got to see of him with his family really proved how much love and emotion he was capable of since the fall of Silence. It was what Ivan was keeping leashed inside his mind that was the reason he didn't feel like he was good enough for, well, anyone. Which broke my heart. Because Ivan was a hero, straight up. Something his family and Lei knew without a doubt. And it was nice to watch his bonds grow with everyone in his path–and to see Ivan and Lei flourish, becoming a tender yet strong couple after all of the hardships they overcame, past and present.
QOTD: If you're a fan of the series, do you have a favorite couple or even pack/family? If not, have you read and enjoyed any shifter books?
Book Info:

Publication: August 9th 2022 | Berkley | Psy-Changeling Trinity #6
NYT bestselling author Nalini Singh takes us into the hearts of two fractured people in a world on the brink of a psychic Armageddon . . .
Silence has fallen. The Psy are free to feel emotion. Free to love. But Silence was never a prison for Ivan Mercant. The biggest threat to his future lies dormant in his brain—a psychic monster that wants only to feed. And now, the brutal leash he's kept on that monster is slipping. He prepared for this day, for the end of Ivan Mercant . . . but that was before he met Lei.
As primal as she is human, this wild changeling brings color into his life, laughter to his soul. Then the dream shatters in a rain of blood, in silent bodies in the snow. Lei is gone. Vanished without a trace . . . until he meets strangely familiar eyes across a busy San Francisco street.
Soleil Bijoux Garcia is a healer who has lost everything. She exists in a world of desolate aloneness . . . till the day she finds herself face-to-face with a lethal stranger. The animal who is her other half knows this man, but her memories are tattered fragments. Sorrow and a need for vengeance are all that drive her. Her mission? To kill the alpha of the DarkRiver leopard pack.
But fate has other plans. Soon, a deadly soldier who believes himself a monster and a broken healer might be all that stand between life and death for the entire Psy race.