Special Ops Seduction by Megan Crane is the fifth book in the Alaska Force series. This time, agents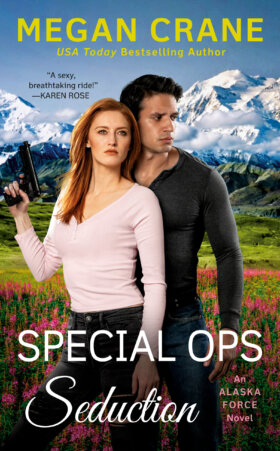 Jonas Crow and Bethan Wilcox have to go undercover as a couple to her sister's wedding. They need to find a missing scientist and his sister, who they believed were taken because of a deadly virus they created.
Alaska Force isn't the first time the pair have worked together. Both had been in the military, and first met after Bethan pulled an injured Jonas from the wreckage of an IED explosion. She provided cover and protected him until he could be extracted. One would think he would have been grateful, but instead he acts hostile towards her. He doesn't like that she saw him at one of his weakest points so he keeps her at arm's length.
Bethan is an interesting combination of strong and soft. There's the operative side of her, the one who had her becoming one of the few females to become an Army Ranger. She doesn't let Jonas scare her off, and has no problems standing up to him. Then there's her secret soft side that she hides from everyone. Her cabin is even decorated in pink. She refuses to let people in to see that part of her though.
One of the things I've enjoyed about this series is that there's been a good blend of romance and suspense. Neither overshadows the other, and that is the case with this book, as well. For those who've read the previous books, you'll once again see the team come together to get to the bottom of the mystery. You'll also get to see the significant others of the team members, and I liked watching them force Bethan to open up a little more. If you haven't read the previous books, you can still read this one as it works wells as a standalone.
Filled with mystery, suspense, and romance, Special Ops Seduction will have readers interested from the first page until the last. I recommend it to those who enjoy romantic suspense.
Book Info:

Publication: January 5, 2021 | Berkley | Alaska Force #5
After an official operation turned deadly, Jonas Crow began a new life in Grizzly Harbor with Alaska Force. But when fellow soldier Bethan Wilcox joins the group, she forces him to remember things he actively prefers to forget. That's unforgivable enough. But now the two of them are forced together on a mission to uncover deadly secrets tied to their complicated past, and with the heat between them at a boil, forgiveness is the least of his worries.
Bethan Wilcox, one of the first women to make it through Army Ranger school, didn't join Alaska Force to deal with Jonas's foul temper. Or her own errant attraction to him. Thrown together in a race against the clock, they have to pretend to be a couple and play nice to throw the enemy off their scent. She knows better than to let their pretend love feel real…especially while time is running out.
Jonas has always been good at saving the world. But it's Bethan he needs to save this time around—if she doesn't save him first.