Scoring Off the Field by Naima Simone is the second steamy story in her football romance series WAGS (which stands for Wives and Girlfriends). This one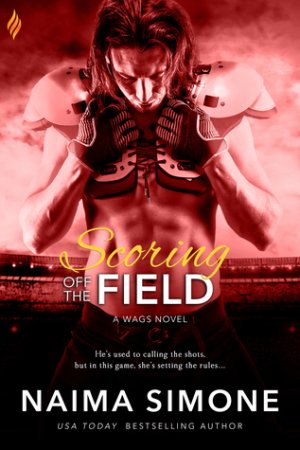 stars a pair of longtime friends who become lovers, then have to decide where things really stand between them.
Tennyson Clark has been under Dominic Anderson's care for years. Meeting in the foster child system, the older Dom had made it his mission to be there for Tennyson in all things. Eventually becoming a professional football player, he'd helped put her through school, then hired her to be his personal assistant. They have a friendship that's passed the test of time. There was that one incident, years earlier, when an inebriated Tenny had blurted out her love for Dominic, only to be gently rebuffed by a young man not on the same page. Tenny knows she needs to start thinking of spreading her wings, and finding her own way without Dom's help, so she makes the decision to quit as his P.A and look for a job using her social work degree.
Dom can't understand why Tenny wants to distance herself from him. She's his rock, his confidante, his best friend. And then there's this new heated attraction that seems to be simmering between them. When he gives into those feelings and Tenny clearly seems to be on the same page, their passion is intense and explosive. But with Tenny planning to leave in a few weeks, is their new friends with benefits relationship going to fizzle out before they can see where it could lead?
I really enjoyed this story! Naima Simone writes fun and likable characters, and Tenny isn't afraid to express her opinions and challenge Dom when necessary. What she doesn't want is for him to realize that she's in love with him, though their circle of friends seems to have clued into her feelings even if Dom himself hasn't. There are some emotional parts to their histories, with Tenny having had a mentally unstable mother who instilled in Tenny a fear of doctors and hospitals, to the point where they give her panic attacks. And Dom was orphaned when his parents died in a car accident, his father's love of football being the impetus for Dom to honor their memory by putting all his energy and time into football. Things have not been easy for these two, making their friendship important to them both.
Even with these more serious themes, there are some lighthearted scenes, fun banter and of course the sizzle of the sex scenes between Dom and Tenny. There's some good on field football scenes in this one and I really enjoy Dom's teammates who are good friends to them both. This is a sexy and enjoyable romance, and I'm looking forward to reading more of the series!

Book Info:

Publication: Mar 12, 2018 | Entangled Publishing | WAGS #2
Tennyson Clark is getting a life. First step: quitting her job as assistant to Dominic Anderson, star quarterback for the Washington Warriors, her best friend … and the man she's been secretly in love with for years. But since the gorgeous, if overprotective playboy has only ever seen her as his BFF, she's finally ready to relinquish her tattered fantasy and move on. Enter steps two and three: new job and new man.
Football is Dominic's life, and with his contract soon up for renewal, all his focus needs to be on the game. But Tennyson—dependable, logical Tennyson— is making that next to impossible with her mysterious new job and her sudden interest in online dating. He doesn't do relationships. But the thought of another man touching her sexier-than-hell curves has him suddenly wanting more from his best friend.
Indulging in hot, dirty, what's-my-name sex with no strings and lots of benefits is simple, uncomplicated…until it's not.