In Scream For Me A Novel of the Night Hunter (For Me #3) by Cynthia Eden, readers are introduced to Cynthia Eden's latest sadistic killer, the Night Hunter. The pace is exhilarating with only brief moments of reprieve. The author takes readers on a sinister journey to catch a killer. It all began fifteen years ago in Paradox, Alabama with the disappearance of Kyle's younger sister, Maria.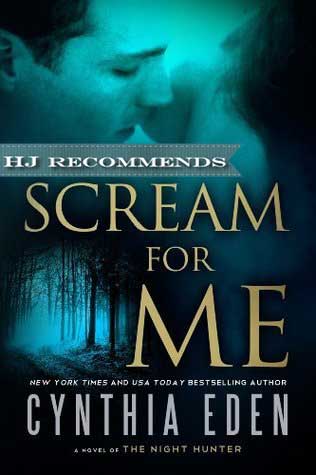 Kyle McKenzie is determined to learn what happened that dark night on an abandoned highway in Paradox fifteen years ago. Even after all these years without a single clue his hope has never waivered. When he receives a call from Captain James Anniston requesting assistance in locating a missing woman, Lily Adams, whose disappearance is strangely similar to Maria's he is unable to refuse. With the help of his partner, Dr. Cadence Hollow, he believes this is his one chance to discover the truth.
Cadence knows that Kyle is haunted by his sister's disappearance. She does not agree that they should assist on a case that is obviously so personal to him but, she will support his decision. Her ability to gain insight into the minds of criminals has earned her lots of recognition; she has helped capture many notable killers.
There are many instants within the story that I felt the characters emotions, especially the fear that the Night Hunter inspired. The Night Hunter is not your typical anti-hero – he is featured prominently within the story…his intelligence and ability to mislead the investigation is admired by the protagonists.
Well-developed characters, vivid imagery, and a fluid writing style made this an incredible escapade. I will say that while the romance fell into the background for most of the book – the author ensures that the reader is constantly aware of the simmering desire between Kyle and Cadence.
Highly recommended for suspense readers.
Book Info:

February 4th 2014 by Montlake Romance | For Me #3
Nothing is deeper than the desire they can't fight—or deadlier than the evil they can't escape.
They were only supposed to have a professional relationship, but FBI agent Kyle McKenzie has been fantasizing about his sexy partner, Cadence Hollow, from the moment they first moment. It takes the darkest case of their careers to finally bring their hidden desire bubbling to the surface. Once they're in each other's arms, though, they swear that nothing short of death will part them. The Night Hunter—a cunning stalker whose four-state, fifteen-year abduction spree began in Paradox, Alabama, with Kyle's sister—may be only too happy to oblige.
In the small town, Kyle must confront the painful past he's been hiding from Cadence. Kyle vows to put the Hunter behind bars…or in the ground. But the one thing that obsesses Kyle more than his sister's grim fate—his furious love for Cadence—is the weapon the Hunter will use to lure his pursuers into the mouth of a murderous trap.