In R is for Rebel (Unruly Royals #4) by Megan Mulry, Lady Abigail Heyworth is not your typical heiress. She would rather spend her time helping the less privileged by doing hands-on labor in third world countries than sit through boring royal dinner parties. Since the end of her decade long relationship with Tully, Abby has been spending time with businessman Eliot Cranbrook–as friends. But her feelings for Eliot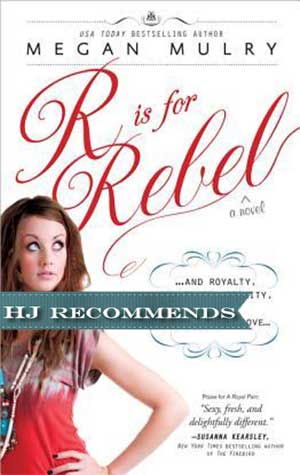 are starting to become romantic and that scares her half to death. Can Abigail believe Eliot's intentions are true or is she just caving in to what she thinks everyone expects of her?
'What did it mean that she wanted to submit every cell in her body to the loving care of this man? She wanted that. He wanted to give her that. Why was she still looking for reasons for that to be wrong?'
Eliot Cranbrook is a shrewd businessman. But underneath the expensive suits and commanding presence, he holds out hope that maybe he can someday have a loving relationship like his parents have. Then Abigail storms into his life. She's fun, witty, gorgeous, and has such a giving heart. Eliot falls quickly for the heiress but she resists her feelings. So it's up to him to show Abigail that giving in to their attraction could be the best decision she's ever made.
"I am not going to settle. I want you. Unequivocally. All of you. All the time."
R is for Rebel is a funny, poignant romance in the wonderfully entertaining Unruly Royals series. Book four is primarily Abigail and Eliot's story, although most of the other couples from previous novels make an appearance in some form or fashion.
After reading several of the other books in this series, it turns out that Abigail was as interesting as I thought she would be. She's an heiress who lives extremely frugally and devotes her time to help those in need, which is highly commendable. During this story, she begins to think of her future and what she wants her legacy to be. It was interesting to see Abby contemplating a traditional man/woman relationship with Eliot after her breakup with longtime girlfriend Tully. There were emotions involved that I never considered she might have to deal with, and in turn, she had some selfish moments, but ultimately she believed that love was enough to overcome her hesitancy.
I thought Eliot was quite intense and wickedly witty. He loved Abigail fiercely and completely and wasn't afraid to let her know it. (Which might not have been a good thing at first…) I wasn't really happy with a couple of the choices he made but overall understood where he was coming from. Somehow I didn't expect him to be so loving and sensitive with Abigail given his business demeanor and I loved that side of his personality.
The Heyworths and all of their loved ones have been such a joy to read about. From Abigail's love for her nephew Wolf, to Bronte's *ahem* candor, and Devon's idea of "helping" when Bronte goes into labor (so funny!), R is for Rebel is definitely worth checking out by any romance fan.
Book Info:

Published February 4th 2014 by Sourcebooks Landmark
Abigail Heyworth is a rebel heiress, bucking the restrictions of her royal family every chance she gets. After ending a long-term relationship, she finds herself inexplicably drawn to the sophisticated American, Eliot Cranbrook. Despite all their differences-he's a self-made businessman; she's a royal hippy-they fall hard for each other. When the intensity of their affair escalates and Abigail is forced to look at the nature of her rebellion, she has to decide if she has an entirely different kind of courage.