In Screwdrivered (Cocktail #3) by Alice Clayton, Vivian Franklin once had a life full of art, travel and fun before she settled down and created her own software design firm in Philadelphia. These days, her only indulgence is her love of historical romance novels that she reads every night before sleeping. Viv may have a tough exterior with her tattoos and piercings, but deep down she's actually a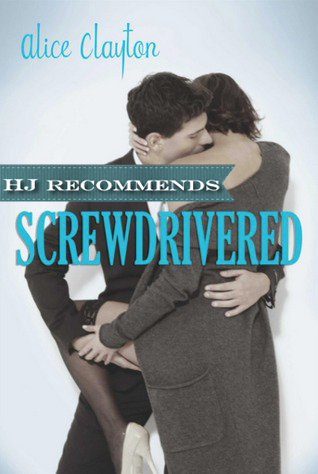 hopeless romantic at heart, waiting for her true love to find her.
'In fact, I did start to see the humor in this situation. I had the Fabio of cowboys in front of me, with no shirt on per usual, and I'd just poured a beer in my ear because I was so darn twitterpated.'
Viv's life starts to resemble one of her novels when she inherits her aunt's home in Mendocino, California, and finds not one, but two handsome men in town who catch her eye. Hank is a cowboy who may not talk too much but is damn easy on the eyes. And Clark is the librarian and town historic archivist Viv has to go through to make any changes on her house. She finds herself in a tug of war between brawn and brains with no idea who is right for her, until a friend points out that if she simply opens her eyes to the possibilities, her heart will choose for her.
"What's the Drake equation?" Caroline asked.
I said, "It's an algebraic equation that calculates the possibility of not only the existence of alien life, but also postulates their ability to be radio communicative." I took a bit of my pizza. "Mmmm."
I realized it was quiet at the table when I heard Clark let out a very small but still audible whimper.
Screwdrivered gives us a look into the life of Vivian Franklin, Simon "Wallbanger" Parker's childhood friend. Specifically the adventure she takes upon her move to Mendocino as her life becomes something out of a romance novel.
'Sometimes falling in love just means turning around and seeing what's right in front of you.'
Book three in the Cocktail series is a bit different than the previous two stories. Yes, we do get to see a bit of Caroline, Simon, and a few of their friends…who are all do fabulously well, by the way. But the biggest difference is the style of the writing. It's still witty, crude in a funny way, and has lots of one-line zingers. But this was written to fit around Viv's personality, which is a tough-woman exterior hiding a secret historical romance junkie on the inside. Alice Clayton did a great job of melding the two styles together giving us basically two romance novels in one: contemporary and historic.
I also really enjoyed the love triangle of sorts that Viv finds herself involved in. On one hand, she had the hunkalicious cowboy Hank with whom she was completely smitten. At least with his looks. Once she got to talk to him, well…quite honestly he was a bit of a mimbo. (A male bimbo) Nice to look at but not much to talk to. *grin* Now Clark, on the other hand, was "tall, dark, and tweedy" as Viv called him. They had kind of a love/hate relationship while they were disagreeing about the renovations of the house, but anyone around them could see the sparks flying. Their conversations were quick and full of charming banter. And I have to say, I truly loved the way everything came together at the end here, and think you just might, too.
Definitely check out Screwdrivered. You needn't have read the previous two books to enjoy getting to know vivacious, feisty, true-romantic-at-heart Viv. So much fun!
Book Info:

Published September 2nd 2014 by Gallery Books | (Cocktail #3)
Readers back for a third round of the bestselling Cocktail series will enjoy a madcap romantic comedy about bodice ripping and chest heaving, fiery passion and love everlasting. Plus a dash of paperwork filing and horseshi—wait, what?
By day, Viv Franklin designs software programs. By night, Vivian's a secret romance-novel junkie who longs for a knight in shining armor, or a cowboy on a wild stallion, or a strapping firefighter to sweep her off her feet. And she gets to wear the bodice—don't forget the bodice.
When a phone call brings news that she's inherited a beautiful old home in Mendocino, California from a long-forgotten aunt, she moves her entire life across the country to embark on what she sees as a great, romance-novel-worthy adventure. But romance novels always have a twist, don't they?
There's a cowboy, one that ignites her loins. Because Cowboy Hank is totally loin-ignition worthy. But there's also a librarian, Clark Barrow. And he calls her Vivian. Can tweed jackets and elbow patches compete with chaps and spurs? You bet your sweet cow pie.
In Screwdrivered, Alice Clayton pits Superman against Clark in a hilarious and hot battle that delights a swooning Viv/Vivian.
Also within this book, an answer to the question of the ages: Why ride a cowboy when you can ride a librarian?