Served Cold (Best Revenge #1) by Marie Harte is a fast-paced, couldn't put it down type of book. Ms. Harte's ability to successfully write romance from different genres never ceases to amaze me and Served Cold is a welcome addition to her diverse book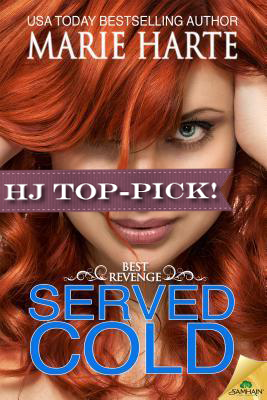 library.
Each novel from this brand new series focuses on one of three best friends since elementary school, labeled the "Terrible Trio" at the time. Now almost thirty-somethings, Ann, Maya and Riley, are still best friends, sharing their lives in their hometown of Bend, Oregon. Served Cold is centered around Ann Weaver, a second grade school teacher who is still in love with her high school boyfriend, Jack Bloom, who just recently moved back to Bend after earning his PhD and a better job. Jack has never forgotten about Ann, his first love, and is hopeful they can rekindle their old spark.
Chalk it up to lack of communication, but there is a lot of unresolved history between Ann and Jack. Seeing each other now brings back both the good and bad memories, in addition to unresolved feelings. Pumped up by her friends, sweet Ann seeks to revenge Jack's actions from years ago, yet as time moves forward and they get to know each other once again, feelings of love and lust begin to overtake her vengeance. Jack just wants to forget the past, not even discuss it, and conquer the future with Ann by his side. But we all know that overlooking the past will not forge a future free of guilt, humiliation and dishonesty.
Ann and Jack are tremendously steamy in the bedroom, on the counter, and in a cave. Jack is definitely an alpha male and Ann likes to be dominated, while they both enjoy a little kinkiness during their lovemaking.
Wow, talk about a well-written festival of lust and love, complete with an emotional element that pulls it all together. Served Cold is the perfect combination of friendship, desire, forgiveness and love. I immediately connected with Ann and Jack and there was never a moment that I did not want them to be together. Their sexual adventures left me panting. The secondary characters are unique in their own right and add a ton of background story to the present happenings.
Ms. Harte is a very talented storyteller and I look forward to the second book in the series. Another winner for Ms. Harte.
Book Info:

Publication: September 16th 2014 by Samhain Publishing | (Best Revenge #1)
Back in high school, Ann Weaver told herself getting ditched by Jack Bloom was for the best. At twenty-nine, she s way over him. He was her first, but definitely not her last.
On weekly wine night with her friends, the talk turns to regrets and Ann finds herself pledging to fix her past, starting with confronting those who treated her like dirt. Her first target: Jack, who s recently moved back to town to stay.
But something s different. He s funny, kind, and amazing in bed. He acts like he really likes her, might even love her. Soon Ann is having a hard time remembering she s only in it for revenge. Especially when she learns the real reason he dumped her.
Jack is older, wiser, and has a hell of a lot of experience behind him. For a chance at a future with this grown-up, gorgeous Ann, he s ready to do whatever it takes. Until her true motive for rekindling their romance comes to light, and Jack must decide if forgiveness is enough to let love push through the lie.