In Scrimmage Gone South by Alicia Hunter Pace, Tolly Lee may be from old money but that does not take away from the shame of what she did as a teenager. Trying to act wild and older than her then 16 years old, she ended up ruining the life of a young man with her lies and deceptions.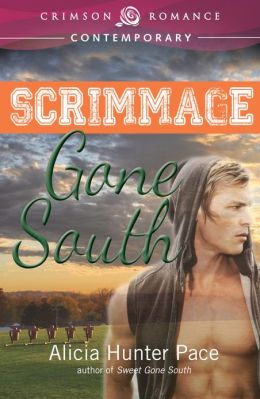 Nathan Scott also known as "The Angel" by everyone in Merritt, Alabama from his college football days has never forgiven Tolly for her deceptions, which led to his accident and his lost chance at the NFL. He believes that all she wanted is to be the center of attention and that he was no more than another star to add to her collection of sport stars.
Now many years later she is back in Merritt working with her cousin as a lawyer, while he is the high school football coach.  He has done everything possible to keep away from her since her return to Merrit after a decade. But when the grandmother of his quarterback, Kirby, dies and he attends the funeral he finds himself face to face with her again while she is hugging Kirby, he believes that she is up to her old tricks again, but he will not allow her to ruin another young man's future.
As Kirby finds himself in a tough position since his only living relatives don't want him , Tolly knows that she cannot allow Kirby's family to ruin his future and decides to take custody of him herself. Something that she does not realize will bring her closer to Nathan than either one of them wants. Life as a new mom to a teenager will not be easy, especially with Nathan looking over her shoulder the entire time waiting for her to fail in some way so he can point it out to her.
The chemistry that was there a decade before is still there, but neither Nathan nor Tolly will accept it. With them having to be so close now they may just have no choice than to face it head on, even if it means that they will try to only burn it out. But unless they can face the past and accept their own part in what happened to each other, they may loose their only chance at having a love that has lasted an entire decade of separation.
For a sweet and fun romance that will make you laugh and enjoy from beginning to end, Scrimmage Gone South by Alicia Hunter Pace is a great choice.
Book Info
Publisher: Crimson Romance (May 13, 2013)
Tolly Lee is pearls, debutant balls, and old silver on the breakfast table. She is ashamed of something she did thirteen years ago, but she was only sixteen and she didn't set out to do it. Still, she should not have led college senior Nathan Scott to think she was his age. She never imagined a football star like him would keep calling her, but it was mostly a long distance relationship and it's not like they had sex. In the end, she paid for her sins with her heart and she might not be done paying. When she moved to Merritt, Alabama, Nathan had been gone for over a decade. Now that he's back, and if the good citizens of her adopted hometown learn of her part in costing their hometown hero his chance at an NFL career, she might as well pack up her law practice and move to Siberia.
A sports commentator christened Nathan Scott "The Angel" because of his flawless face and his ability to leap to catch a football, as if he had wings. He still has the face but his leaping days ended when he was injured after going on the football field distracted, only hours after catching the girl of his dreams in a terrible lie. He would never have accepted the job as head football coach of Merritt High if he'd known Tolly had set up shop on Main Street. Not that he still has feelings for her.
But a small town has a way of reviving the past and when common interest in an orphaned teenager forces Tolly and Nathan to agree to an uneasy truce, guilt and old resentments resurface.
With no end zone in sight, their mutual attraction leads to a Scrimmage Gone South.
Sensuality Level: Sensual