Searching for Harmony by Kelly Elliott: At eighteen, Harmony became a mother and wife.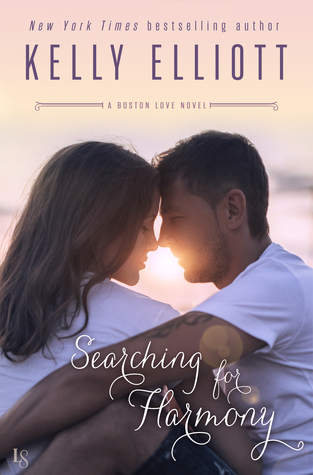 Nearly two years later, a car wreck destroys her family. But out of the wreck comes Preston, the firefighter who tried everything he could to save her son.
Preston knows he did what he could for the little boy, but guilt isn't why he's entangling himself with this family. Harmony is. He can't get her out of his mind, and Harmony is more than willing to have Preston in hers after a marriage that wasn't much of a marriage.
As Harmony recovers from her grief and she and Preston become closer and closer. But with Preston a firefighter often going in to dangerous situations, Harmony doesn't know is she can handle the danger involved and risk losing her heart again.
Swallowing hard, I barely spoke, "I'd like that." My heart began pounding as I picture kissing Harmony's soft lips.
Leaning forward, Harmony's eyes searched my face as she smiled slightly. "You're looking at me differently than you ever have before, Preston."
Although the story starts in tragedy, and there is definitely the grieving, the cute romance definitely owns the book. Preston was such a sweetheart – and I'm very happy he didn't suffer from guilt over the boy when there was nothing he could do – because of his total love and caring for Harmony. He was there for her however she needed. Harmony I liked a little less because I just didn't feel there was much to her. The only thing that defined her was her tragedy.
I definitely felt it glossed over the tragedy a little too much. Her cheating husband, fine, but her young baby boy, that's going to be more lasting. Even so, I can say I'm happy it didn't take over the story.
I also just loved both families. I'm a big fan of the crew of brothers or close siblings, and this story served up in that regard. A cute love story, lightly steeped in tragedy, I recommend Searching for Harmony for any firefighter or sweetheart hero fans.
Book Info:

Publication: July 12, 2016 | Loveswept | A Boston Love Novel
From New York Times bestselling author Kelly Elliott comes the gut-wrenching story of a love that transcends all odds—and transforms the deepest pain into the brightest hope.
Firefighter and first responder Preston Ward thought he had grown immune to the job's emotional burns. But when he goes out on a particularly tragic call, he realizes that some scenes are too devastating to forget. And yet, if it weren't for that terrible night, he never would have met the woman who makes him want to risk his heart.
More than once, Harmony Banks has watched her perfectly ordered world torn apart by fate. Now she's finding out that what she lost wasn't as perfect as she thought—and it's tearing her apart. The only thing that keeps her going is the kindness of a stranger: the firefighter who saved her life the night everything changed.
Preston isn't like the men who have come before. For one thing, he's far more genuine. And the love Harmony feels growing between them is almost too intense for her wounded soul. But if she and Preston can push past heartbreak, they'll find that something incredible awaits in each other's arms.